The classic recipe of Magic Bars made even sweeter with caramel condensed milk, lots of coconut, milk chocolate chips, and toasted pecans makes the ultimate sweet dessert!
With endless invites to barbecues and hosting quite a few of our own, I am always on the lookout for great dessert ideas! In the heat of the summer, I look for quick and easy desserts some no-bake and others that require a little baking time! 
When creating a dessert I look for something sweet, feeds a crowd, easy, kids can help in the kitchen, flavors everyone will love, and can be paired with a scoop of ice cream! Hmmm, what works best this time? 
Classic, ooey, gooey, super sweet Magic Bars made even sweeter. Instead of regular sweetened condensed milk let's use caramel! Let's add more chocolate and coconut, and toasted pecans! These Ultimate Magic Bars will knock it out of the park! 
Let's get stirring and baking! 
The girls and I head to the kitchen early in the morning and gather everything we need to make our Ultimate Magic Bars!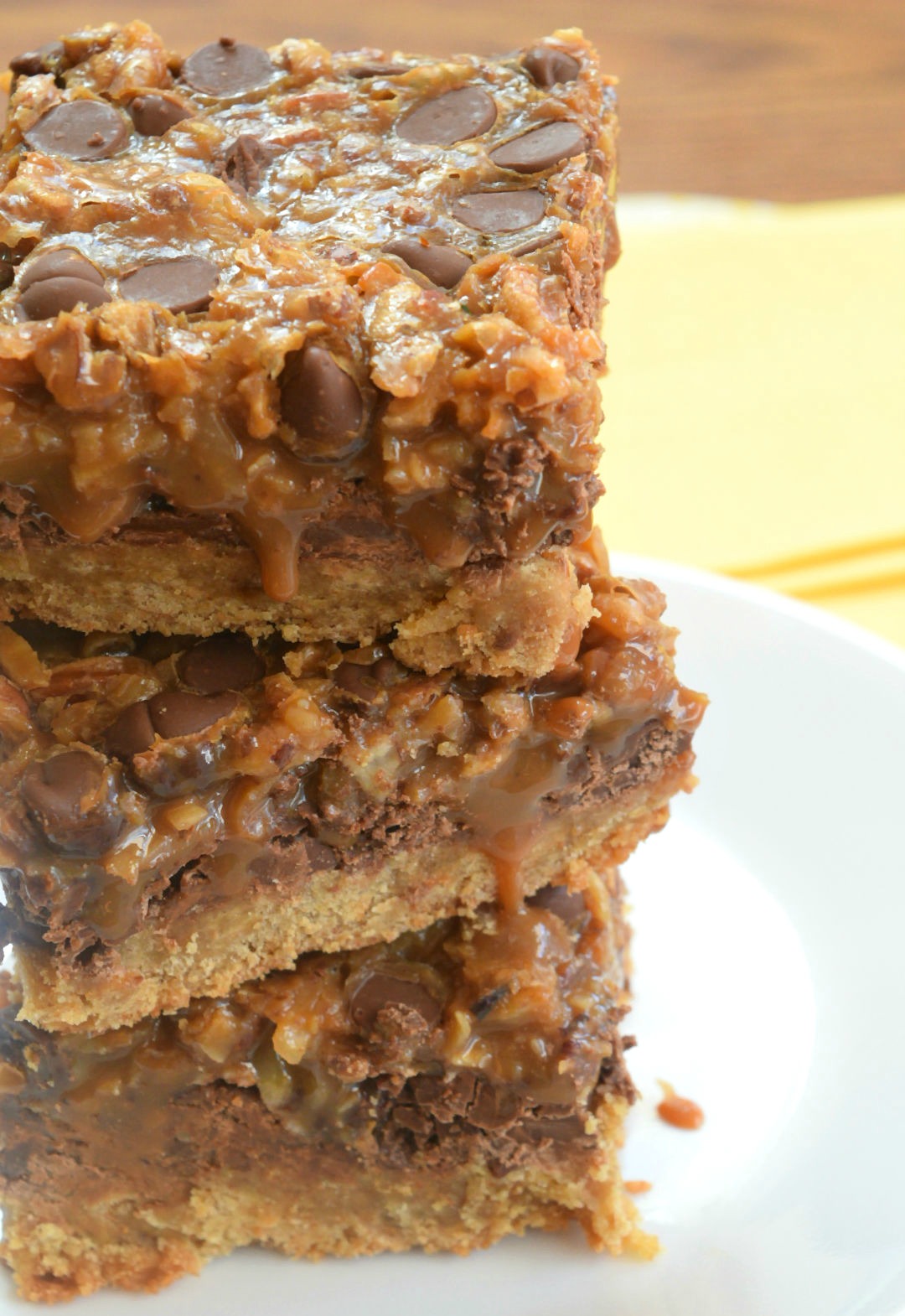 The Ultimate Magic Bars
Ingredients
½ cup unsalted butter
¾ cup light brown sugar
1 teaspoon vanilla extract
1 large egg
1 cup graham cracker crumbs
1 cup all-purpose flour
½ teaspoon baking powder
¼ teaspoon salt
2 cups milk chocolate chips- divided
1¼ cups sweetened shredded coconut
½ cup toasted chopped pecans
8 ounces caramel sweetened condensed milk
Instructions
Preheat Oven to 350F
Grease an 8x8 baking dish
In a small saucepan on low heat toast the pecans. Remove from heat and set aside to cool.
In a large mixing bowl cream together the butter and sugar. Add in the vanilla extract and egg.
In a small bowl combine graham cracker crumbs, flour, and baking powder.
Mix wet and dry ingredients together to form a soft dough. Press dough evenly on the bottom of the baking dish. Bake for 5 minutes.
Remove from oven and layer with 1½ cups milk chocolate chips, coconut, and pecans.
Drizzle sweetened condensed milk over top.
Top with ½ cup milk chocolate chips.
Bake at 350F for 25-30 minutes.
Cool completely and then place in refrigerator for at least an hour.
Cut into squares and enjoy!
Dripping caramel goodness, milk chocolate chips oozing out and buttery graham cracker crust make these Ultimate Magic Bars the perfect dessert to serve at our next barbecue! We created a delicious dessert that meets with rave reviews! Sweet!
{S'mores Pie}


{No Bake Peanut Butter Bites}