Oscar Mayer Selects Natural Applewood Smoke Turkey paired with fresh herb cream cheese, roasted red peppers, and baby spinach, rolled up with buttery crescent rolls, and baked to golden perfection!
The alarm rings to the start of a new day! Our feet hit the ground running with our morning routine and getting ready for the day that lies ahead!
Breakfast is served, lunches are being made, coats on and out the door to school and work.  For lunch, we love mixing it up and today we are enjoying Oscar Mayer Selects Natural. We each choose a different cold cut and pair it with everything from bread, rolls, and pita chips! The possibilities of how to enjoy these cold cuts are endless.
Talking about endless possibilities I needed to create an appetizer for an upcoming lunch our family is going to. I dreamed this one up and the next morning I went to the store after the kids got on the bus to buy everything I needed.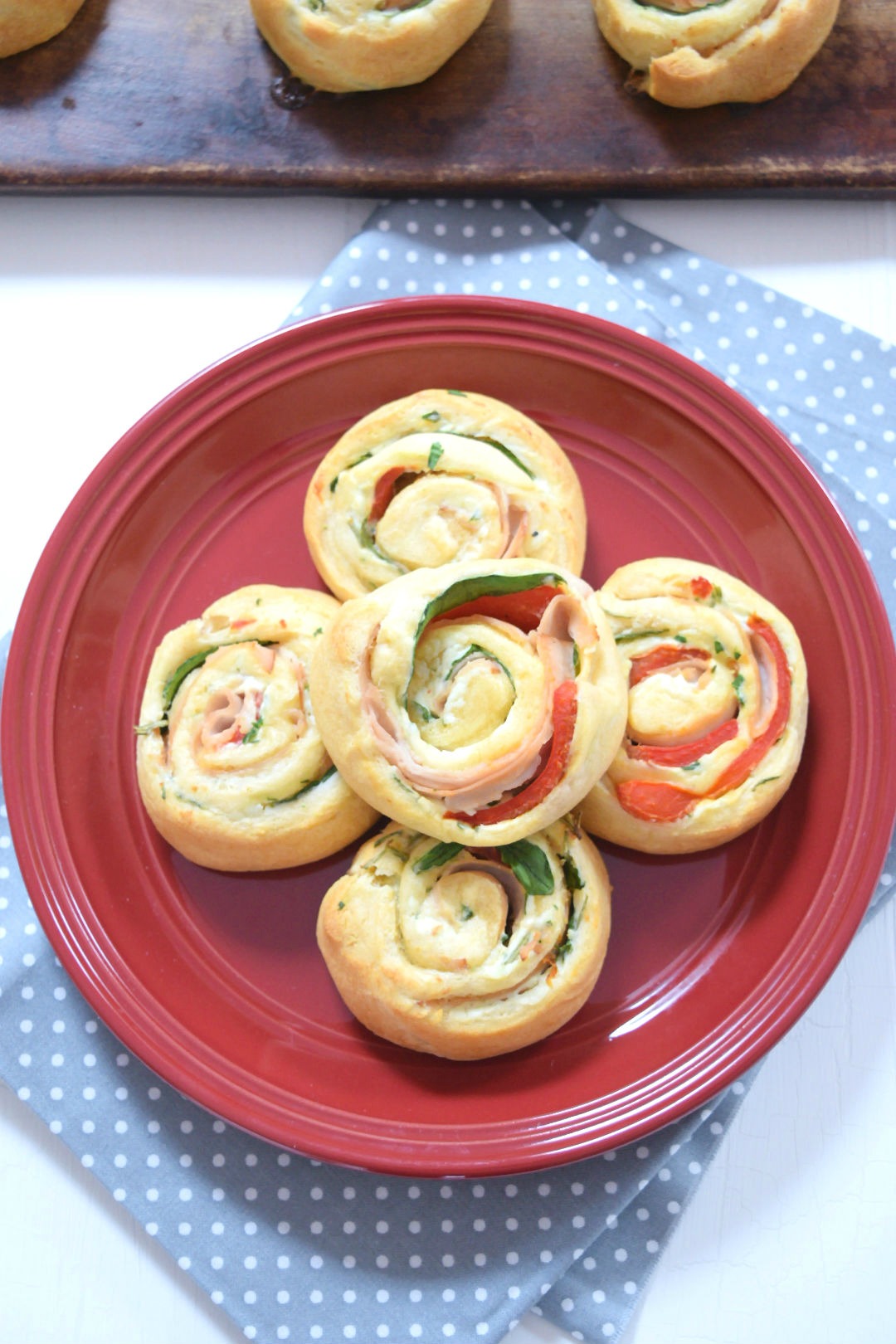 When I first opened the package to the turkey, I took a taste test and I really liked the great flavor. I am always on the lookout for cold cuts that have no artificial ingredients and delicious taste.
Oscar Mayer Selects Natural is made with no artificial ingredients, and is minimally processed. Selects Natural has no artificial preservatives (the back side of each package lists the ingredients used to preserve quality), no artificial flavors, no artificial colors, no gluten and no by-products.
What's not to like about this great tasting, full flavored cold cut! 
Oscar Mayer Selects Natural Applewood Smoked Turkey, fresh herb cream cheese, roasted red peppers, and baby spinach all rolled in buttery, flaky crescent rolls make this Turkey and Herb Pinwheel a savory success! 
Turkey and Herb Pinwheels
Ingredients
4 ounce cream cheese
1 garlic clove-minced
2 Tablespoons-fresh flat-leaf parsley, rosemary-chopped fine
1 whole roasted red pepper
handful baby spinach
6 or 7 slices Oscar Mayer Selects Natural Applewood Smoked Turkey
1 can refrigerated crescent rolls
Instructions
Preheat Oven to 375F
In a small bowl combine cream cheese, garlic, & fresh herbs, mix together
On a cutting board roll out the crescent rolls
Using a roller combine all of the crescent rolls together to form one sheet
Spread herb cream cheese evenly over top.
Slice the roasted red pepper and place evenly over top cream cheese
Add the spinach and turkey
Take the two corners of the crescent roll sheet nearest you and curl the corners.
Then jelly roll the crescent roll sheet, pausing to press lightly on the dough with each roll.
Pinch the seams together.
Seam side down, cut 1½ inch slices
Place slices on cookie sheet
Bake at 375F for 20 minutes until gold brown
Serve & Enjoy
Notes
Makes 11 to 12 pinwheels
This recipe also works great with the Slow Roasted Roast Beef.
Watch this video to see how these Turkey And Herb Pinwheels came together!          

Oscar Mayer Selects Natural is available in five flavorful varieties including Slow Roasted Turkey, Applewood Smoked Turkey, Rotisserie Seasoned Chicken, Applewood Smoked Ham and Slow Roasted Roast Beef.
You can learn more about Selects Natural and all the Oscar Mayer products on OscarMayer.com, Facebook at Facebook.com/OscarMayer, Twitter at @OscarMayer and on Tumblr at OscarMayer.Tumblr.com.
I was selected for this opportunity as a member of Clever Girls and the content and opinions expressed here are all my own.