Fall is our family's favorite season because of the crisp weather, football, leaves changing colors and falling, comfort foods, and lots of things pumpkin! These fun to make pumpkin popcorn balls are a great kids in the kitchen snack! There was a lot of popcorn munching, candy nibbling, and sticky finger fun happening in our kitchen today as we made these pumpkin popcorn balls.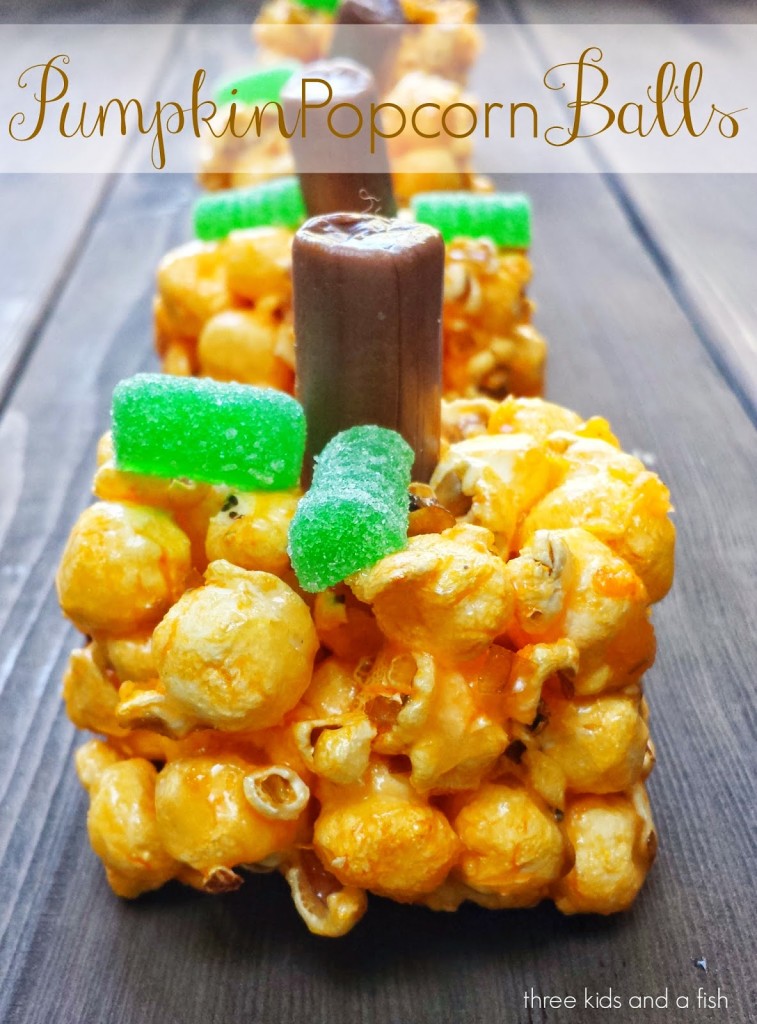 These pumpkin popcorn balls are easy to make and even more fun to eat. Make a batch to bring to a fall party, or a get together! Put these fun snacks in a treat bag and make someones day!
Pumpkin Popcorn Balls
Ingredients
8 cups yellow cheddar cheese bagged popcorn
1 cup granulated sugar
⅓ cup light corn syrup
¼ cup butter
12 tootsie roll midgets
6 chuckles minis
Instructions
Put cheddar popcorn in a large bowl.
In a small pot melt the sugar, corn syrup and butter. Stir well. Bring to a soft boil.
Pour the sugar mixture over the popcorn and stir until popcorn is well coated.
When the popcorn cools a bit-about 5 minutes- take a ½ cup measuring cup and scoop in some popcorn. Press popcorn gently into the measuring cup, and then pop out into your hands.
Place on a cookie sheet.
Place a tootsie roll midget in the middle for the pumpkin stem.
Take a green chuckles mini and slice in half. Put on the pumpkin popcorn ball as the leaves.
Enjoy!