This shop has been compensated by Collective Bias, Inc. and its advertiser. All opinions are mine alone. #TeamPizza  #CollectiveBias #cbias
Red Baron Classic Crust Supreme Pizza and Edwards Cookies & Creme Pie plus Aunt Connie's Salad make great game day food! 
It's game time as we break out the decorations, favorite team colors, and half time games! We are also gearing up with a shopping list of our must-have munchies and appetizers that are fan favorites in our house!
We love entertaining our friends and family and nothing brings us all together for great food and good times like game day! We proudly wear our team colors, argue over who cheers for the better team, pile our plates mile high with great food, and laugh at the crazy half time games we put together for our kids!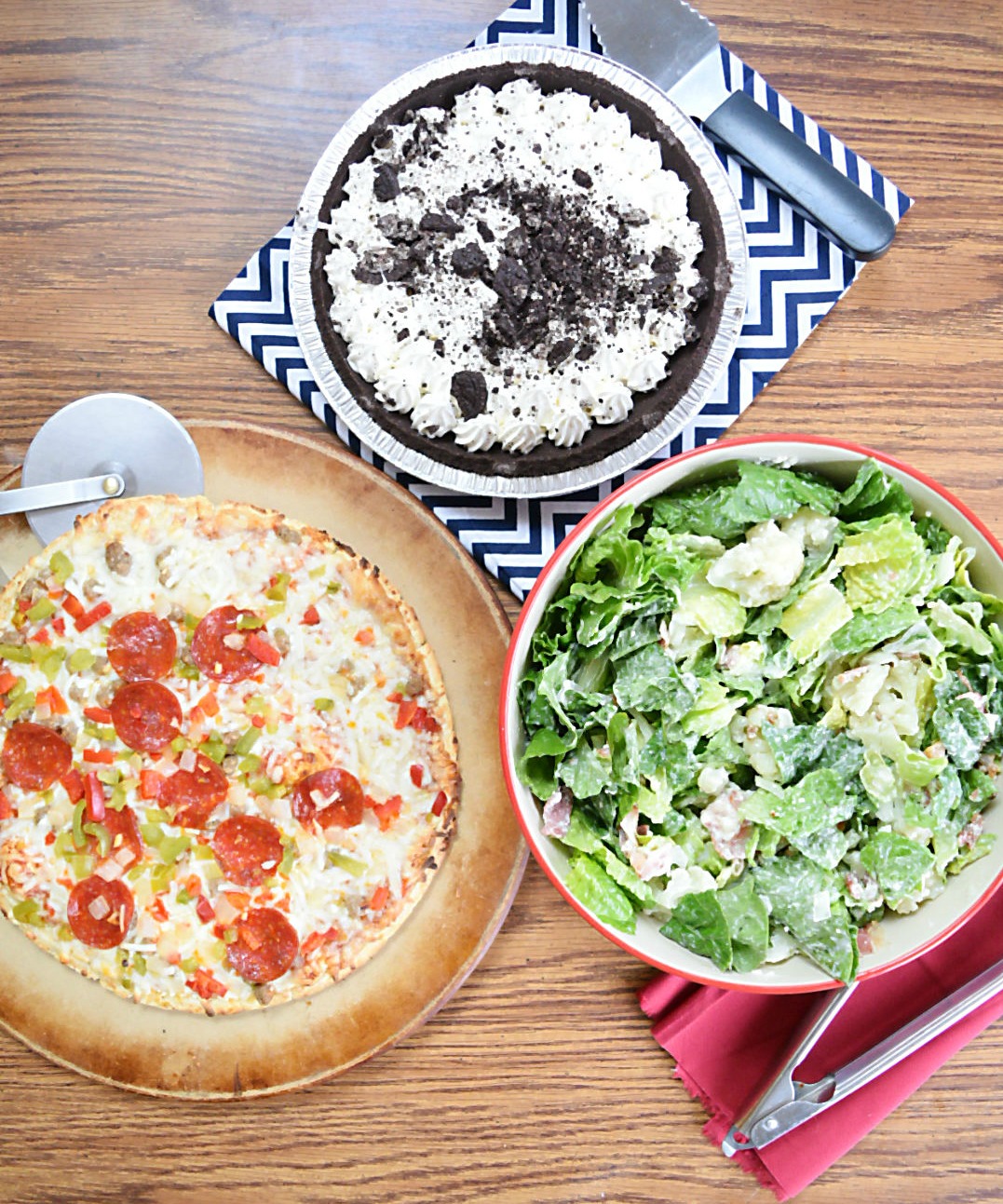 Red Baron Pizza makes a great game day food! There are so many varieties to choose from and there is crust perfection in every bite! Packed with a great cheese and sauce combination and topped with amazing choice toppings these pizzas are a big hit at our party!
Our kids and their friends love the Red Baron Classic Crust Pepperoni, while another fan favorite is hands down the Red Baron Classic Crust Supreme!
This 7 ingredient salad comes together in no time and is a great side to the amazing Red Baron Pizzas that we serve!
My Aunt Connie makes an amazing salad that she brings to every family function! My plate is aways piled high with this crunchy, creamy, full-flavored salad!
This salad is crisp romaine lettuce, crunchy bacon, diced onion, and fresh cauliflower tossed with a simple 3 ingredient dressing!
Welcome to our kitchen as we get ready for the big game and our party! While the pizza cooks, let's make the salad!

Aunt Connie's Salad
Ingredients
2 Romaine Hearts lettuce
1 lb bacon
1 medium yellow onion
1 head fresh cauliflower
1 cup mayonnaise
¼ cup fresh grated Parmesan cheese
½ teaspoon lemon juice
Instructions
Heat a saute pan on medium-high heat and cook the bacon until crispy. Pat dry between 2 paper towels.
While the bacon sizzles-
Cut the Romaine lettuce and cauliflower and add to a big serving bowl.
Dice the onion and toss into bowl.
In a small bowl stir together mayonnaise, cheese, and lemon juice.
Add bacon to the salad.
Stir in the dressing and serve immediately.
Notes
If you are making this amazing salad ahead of time-be sure to wait and stir in the dressing right before you serve the salad otherwise it will be soggy!
Everything for the big game is ready to go and we hand out the noise makers as we cheer for our favorite team! It's the perfect meal with great pizza, amazing salad, and a sweet pie ending! The Edwards Cookie & Creme Pie we chose is creamy and full of delicious cookie flavor!!
Walmart has everything we need for our game day party including a great variety of Red Baron Pizzas and Edwards Pies!
What is your favorite game day food that you enjoy serving?