This is a sponsored conversation written by me on behalf of Snapple. The opinions and text are all mine. #TrueTeaTaste
Celebrate summer with this fresh Summer Salad and Snapple® Straight Up™ Tea!
School is almost out of session and summer is around the corner! We can smell it, feel it, sip it and even taste the fun times and good foods of summer. We spend days at the lake and the beach soaking up the sun, we hang out with friends, head to the park to play and much more during the sweet days of summer! 
For lunch and dinner, we keep things light, simple and fresh! One of our favorite things to eat for lunch or dinner with family and friends is our fresh Summer Salad.  There is nothing quite like crunchy greens that are brightened up with sweet fruit, sprinkled with creamy cheese, sugared nuts, and drizzled with a citrus dressing! This salad hits the spot and is made even better when paired with a cold glass of  Snapple® Straight Up™ Tea!
 I am over the moon excited about Snapple® Straight Up™ Tea! Gone are the days of brewing my own that I combine with a simple syrup because Snapple® has created 5 varieties of tea that taste just like they were freshly brewed in my kitchen! Made with all-natural ingredients and no artificial flavors Snapple® Straight Up™ Tea brings you true tea taste and is available in different levels of sweetness! 
 As I was food shopping for my Summer Salad ingredients I discovered the newly packaged Snapple® Straight Up™ Tea! My Stop & Shop had the ice tea on sale and so I loaded my cart with as many of the varieties as I could. Each variety brings their own great flavor! I did a taste test of each, I just couldn't wait to try the Snapple® Straight Up™ Tea Sweet,  Snapple® Straight Up™ Tea Sorta Sweet, and  Snapple® Straight Up™ Tea Unsweetened!  Snapple® Straight Up™ Tea Sorta Sweet Honey Green Tea and Rooibos are also available now!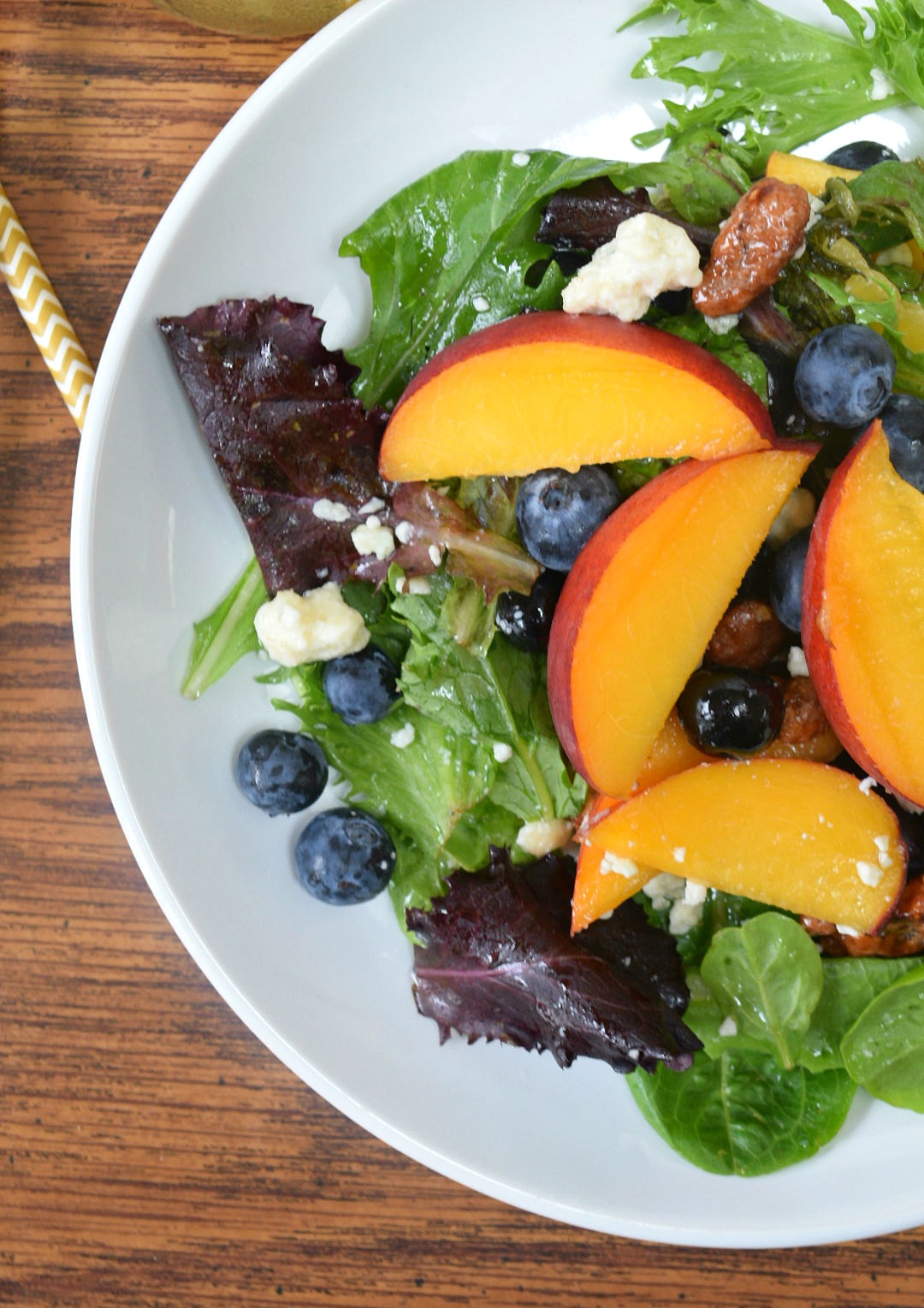 Summer Salad and Snapple® Straight Up™ Tea
Ingredients
10-ounce mixed salad greens
3 peaches- sliced
1 cup fresh blueberries
4- ounce gorgonzola cheese crumbles
½ cup candied walnuts or pecans
Citrus Vinaigrette:
½ cup olive oil
¼ cup lime juice
¼ cup rice vinegar
salt & pepper to taste
Instructions
In a large bowl combine salad greens, peaches, blueberries, cheese, and nuts and toss together.
In a small bowl mix together oil, lime juice, vinegar, salt, and pepper.
Add dressing to salad and mix well!
Serve & Enjoy!
This full- flavored salad pairs very nice with any of the varieties and I enjoyed mine with the Snapple® Straight Up™ Tea Sweet Honey Green Tea! It was a refreshing combination on a beautiful summer day! 
Next time you are shopping stop by the ice tea aisle and check out the amazing variety of Snapple® Straight Up™ Tea! Share below which is your favorite! I am still deciding, so I guess I'll have to head back out to the store and get some more!