These Steak and Potato Bites make a tasty appetizer or a great way to get your kids to eat their dinner!
Since the beginning of time parents at the dinner table around the world have at least once told their kids not to play with their food, just eat it. 
Creamy, flavorful mashed potatoes call out to kids to play with them before or instead of eating them! My little love does not like mashed potatoes, not even a bit. Yet, I continue to put them on her plate in hopes that after one taste she would be hooked. No such luck. 
In her defense, mashed potatoes are one of the most difficult things for me to make. I can't seem to get the consistency right no matter what I try.  One conversation with my sister in- law changed the way I do mashed potatoes forever. Boil the potatoes whole to keep them from getting to much water and making the potatoes mushy. Now my potatoes are perfect (well almost) every time!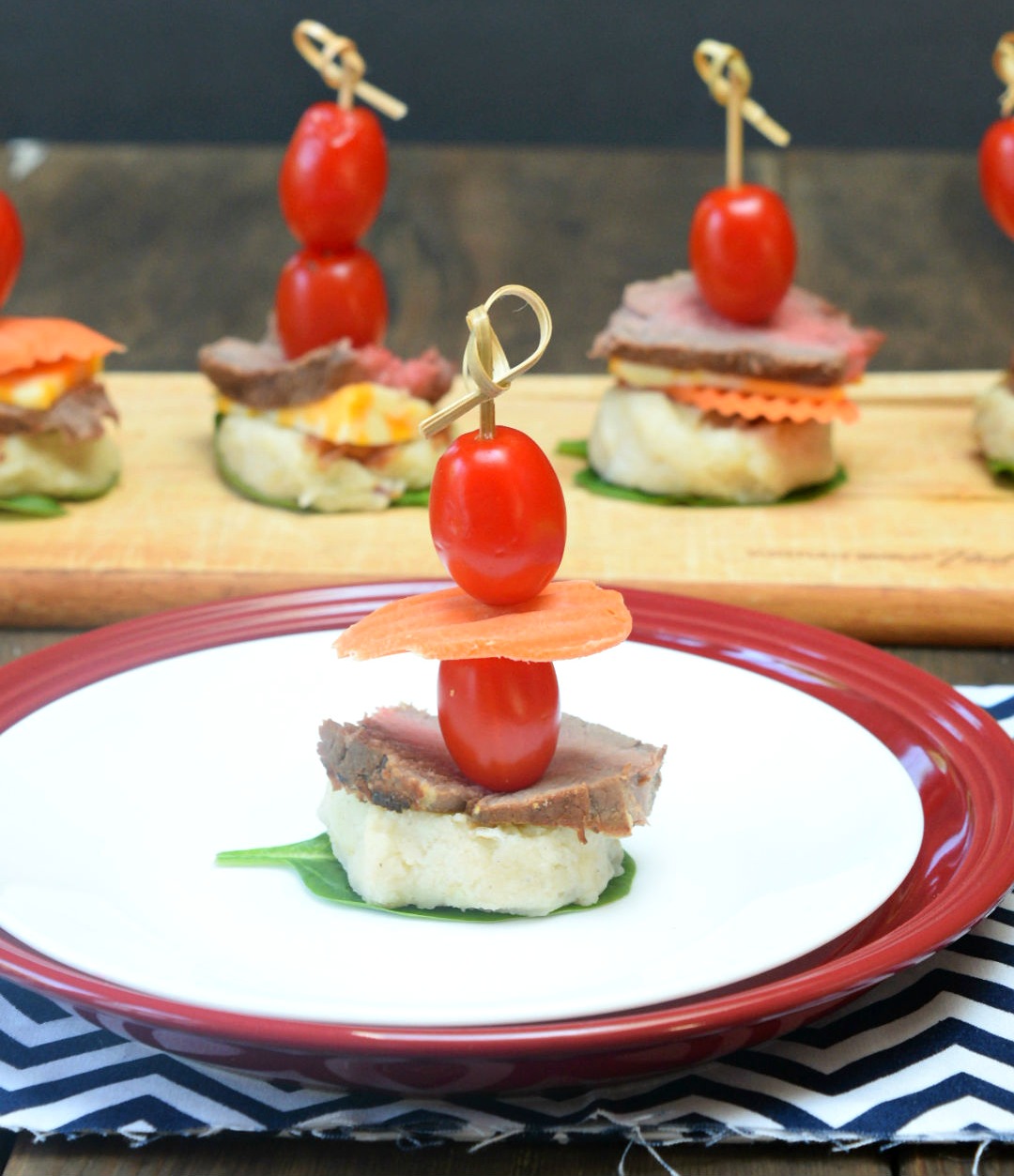 So there on her plate for dinner was grilled London broil, mashed potatoes, and fresh spinach and carrot chips. I walked away briefly and came back to find that she had created a mashed potato patty and stacked the meat on top and cradled them both in the spinach. Now why didn't I think of that.  
Steak and Potato Bites
Ingredients
8 Tablespoons mashed potatoes- all ready made and room temperature
8 baby spinach leaves
8 carrot chips
8 slices of grilled steak
8 slices Monterrey jack cheese
8 fancy toothpicks
Instructions
Take 1 Tablespoon mashed potatoes and roll into a ball and then flatten into a patty. Repeat with rest of mashed potatoes.
In a small sauce pan heat on both sides for 30 seconds until made a little golden brown. Cool completely.
Place the mashed potato patty on spinach leaf followed by meat, cheese, carrot and tomatoes.
Serve and Enjoy!
For my mashed potatoes, I boil red potatoes whole and peel while still warm. I add a little milk, cream cheese, sour cream, butter, and spices! Perhaps I'll share my homemade mashed potato recipe next! 🙂