This seafood tortellini salad is a great side for any barbeque with fresh pasta, crunchy veggies, and seafood tossed in a creamy dijon mayo dill sauce!
Our family loves this time of year where we get ready for summer fun! We long for the days of swimming in the pool, catching fire flies, roasting marshmallows, and lots of barbecues! 
We enjoy hosting friends and family for backyard barbecues and creating great dishes to go alongside of grilled meats! 
I created a seafood tortellini salad that has fresh tri-colored tortellini, chunks of crab meat and shrimp, crunchy peppers and celery and tossed in a light dijon mayo dill sauce!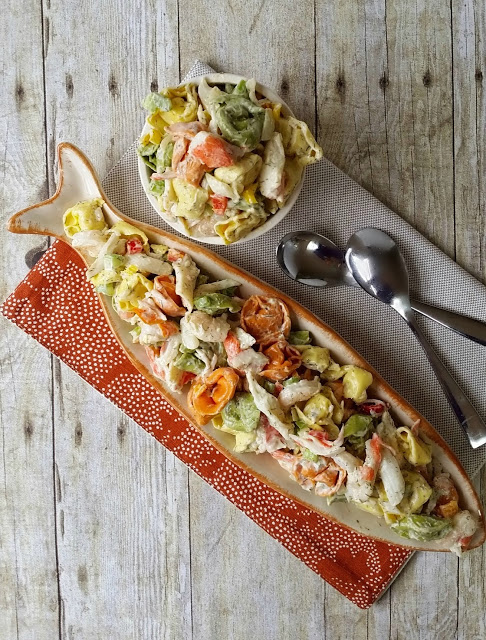 Seafood Tortellini Salad
Ingredients
16 ounce refrigerated tri-colored tortellini
8 ounce flaked imitation crab meat
8 ounce large shrimp
½ cup chopped celery
½ cup chopped tri-colored peppers
¼ cup chopped onion
1 cup mayonnaise
1 Tablespoon dijon mustard
2 teaspoons lemon juice
1 Tablespoon dill
salt/ fresh ground pepper to taste
Instructions
Boil water in a pot and cook tortellini for 2-3 minutes, drain and set aside in a large mixing bowl.
Chop celery, onion, and peppers, add to tortellini.
Pull apart crab meat and leave in larger chunks. Cut shrimp in half. Toss seafood into the mixing bowl.
In a small bowl mix together mayonnaise, dijon mustard, lemon juice, and dill. Stir well and add in salt and pepper to your taste.
Gently coat the sauce with the pasta, veggies, and seafood.
Cover bowl and refrigerate at least 1 hour!
Dig in and enjoy!
Powered by Recipage