"This post is part of a social shopper marketing insight campaign with Pollinate Media Group®, Barilla®, but all my opinions are my own. #pmedia #GlutenFreeBarilla http://my-disclosur.es/OBsstV"
This Sausage and Peppers with Pasta dish is Italian comfort food at it's best! 
Growing up in an Italian home meant that food and gathering around the table were a very big deal! If you had hopes of seconds you ate quickly, talked while chewing, and the more you waved your hands in dramatic motions the more you were listened to. 
There was always a pasta dish, warm crusty bread, and salad to round off the meal! Steam curling from the pasta dishes and the sweet aroma of tomatoes, onions and garlic wafting through the air hold sweet childhood memories!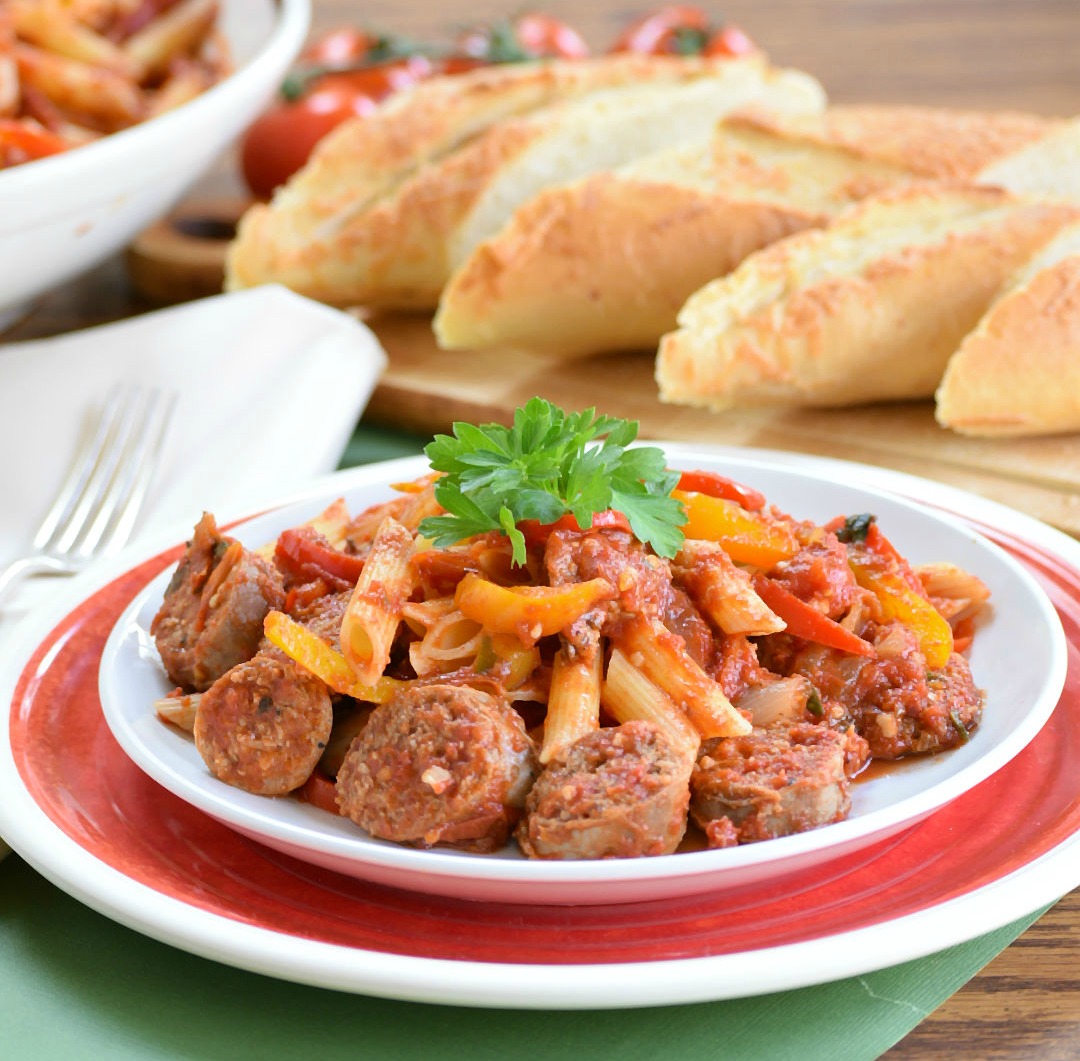 After having my third child, my body decided not to like gluten and the pasta dishes I had grown up loving to eat. Eating gluten free helped me eat what I love and stay healthy doing it!
Almost six years later my body has bounced back fully and I am able to dive into all the Italian comfort food that I love. At times, I still enjoy serving my family Barilla Gluten Free Pasta because of the delicious taste and texture! Barilla Gluten Free Pasta is made with corn and rice and you can't tell the difference between the Gluten Free and the regular pasta! 
One of my favorite dishes of Italian Sausage and Peppers tastes amazing served over Barilla Gluten Free Pasta! This pasta is certified gluten-free and is made with non-GMO ingredients which make it a great pasta that the whole family can feel great about enjoying!
Sweet Italian Sausage, caramelized peppers and onions, added to semi-homemade tomato sauce has amazing flavor and is made complete when served with pasta! 
Growing up in a big Italian family required buying in bulk! My parents always went to BJ's Wholesale Club to shop. Now that I have a family of my own I too shop there! I found the Barilla Gluten Free Pasta there in a pack of four so there's plenty to feed a crowd! Visit BJ's Wholesale Clubs on December 22nd and 23rd to see an in-store Barilla Gluten Free pasta demo at select clubs.
Gather round the table this Sausage and Peppers with pasta dish is being served! 
Sausage and Peppers with Pasta
Ingredients
1 lb sweet Italian turkey sausage
2 garlic cloves-minced
4 multi-colored peppers-sliced
1 large yellow onion-sliced
2 Tablespoons oil-divided
1 teaspoon butter
1-12 ounce box Barilla Gluten Free Pasta
SAUCE
28 ounce can crushed tomatoes with basil
2 garlic cloves-minced
12 tomatoes on the vine-diced
¼ cup fresh Italian flat leaf parsley-chopped fine
¼ cup fresh basil-chopped fine
salt, pepper, crushed red pepper flakes
Instructions
Let's start with the sauce!
In a large pot add the crushed tomatoes, minced garlic, diced tomatoes and herbs. Cook on low heat.
In a large pan heat 1 Tablespoon oil and add sausage. Cook sausage 7-10 minutes, drain any liquid, remove from pan and set aside. After sausage has cooled for a few minutes slice diagonally to desired thickness.
Add in the same saucepan 1 Tablespoon oil, peppers, onion. Saute on low. Halfway through cooking add in 1 teaspoon butter. This will caramelize the peppers and onions. Turn heat up a bit and cook until tender.
In a large pot boil water and cook pasta according to directions. Set aside.
Combine together in the large sauce pan the sausage, peppers, onions, sauce and pasta. Cook on low for a few minutes.
Serve warm with crusty bread and tossed salad!
Nutrition Information
Calories:
1754
Fat:
49g
Saturated fat:
18g
Unsaturated fat:
23g
Carbohydrates:
227g
Sugar:
56g
Sodium:
3531mg
Fiber:
30g
Protein:
115g
Cholesterol:
146mg
You can check out more amazing Barilla Gluten Free Pasta recipes over at their Pinterest board!