Roasted Peanuts with fresh ground black pepper and sea salt are delicious by the handful!
Recently, my brother and sister-in-law told me about these amazing peanuts that had bought. They were fresh roasted salt and pepper peanuts. They said they were amazing and they enjoyed them by the handful.
For our recent birthday party, I needed a munchie for the painted mason jars. The salt and pepper peanuts seemed like the perfect thing.
When planning a party, I am always on the look out for munchies that are easy to create and delicious to eat. As my little love says, "It's easy peasy lemon squeezy." That's exactly what these peanuts are, and it's just what I needed for the party!
I have all the ingredients on hand which is even better! These jazzed up peanuts can even be added to a mason jar and sent home as a little gift for the party guests!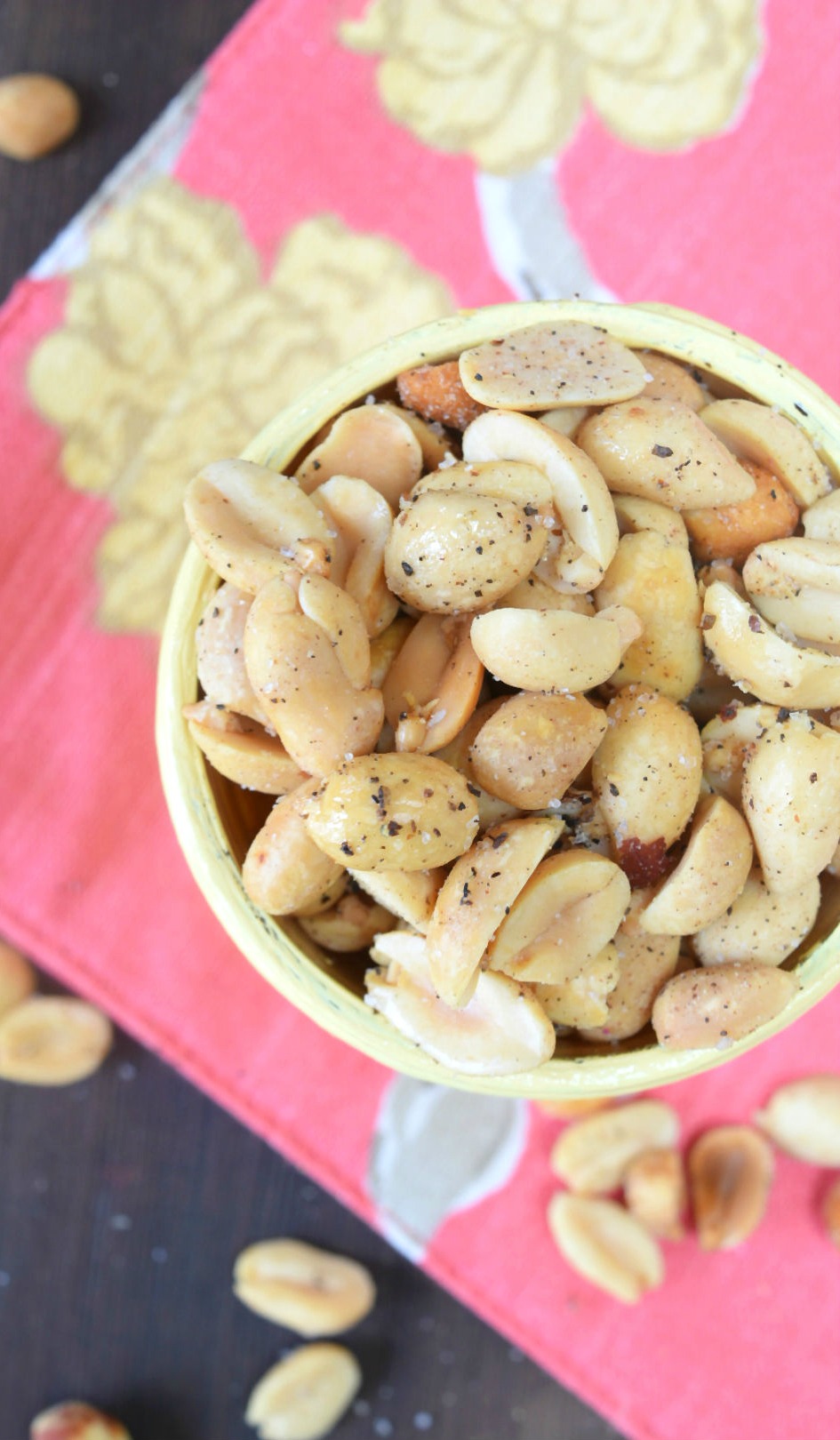 Fresh ground pepper and sea salt spread over lightly oiled peanuts and out slowly roasted in the oven. 
They were a hit at the party and I even had some leftover to enjoy the next day!  They make a great snack enjoyed on the go, by the handful, for a midnight snack, or as an add-in to a great snack mix! 
I love the taste of the roasted peanut, fresh pepper, and course sea salt! It's a great combination that adds a little pop to the peanuts!
Salt and Pepper Peanuts
Ingredients
16-ounce jar of unsalted peanuts
3 Tablespoons canola oil
Fresh ground pepper - I use a grinder
Sea salt
Instructions
Preheat oven to 350F
Spread peanuts out in a single layer on a cookie sheet
Using a pastry brush lightly brush oil over peanuts, stir up, and brush again with oil.
Grind pepper and sprinkle salt, stir and do again.
Bake at 350F for 20 minutes, stirring half way through.
Brush again lightly with oil.
Grind pepper and sprinkle salt.
Allow to cool, stir up and add pepper and salt to taste.
Notes
Store in airtight container.
You may need additional oil.
What is your favorite way to enjoy eating peanuts?