This shop has been compensated by Collective Bias, Inc. and its advertiser. All opinions are mine alone. #MinionsMovieNight #CollectiveBias
Salsa Macaroni and Cheese Cups are a delicious dish to enjoy with a family dinner and movie night!
Our family loves watching movies together and we tend to watch more movies this time of year! Nothing is better than snuggling up in a warm blanket with the fireplace on and enjoying a family fun night of dinner and a movie!
Salsa Macaroni and Cheese Cups are a delicious no fuss no mess dinner dish to enjoy while watching a movie! The creaminess of the cheese comes together with the flavorful salsa to make this pasta dish a colorful, delicious bite!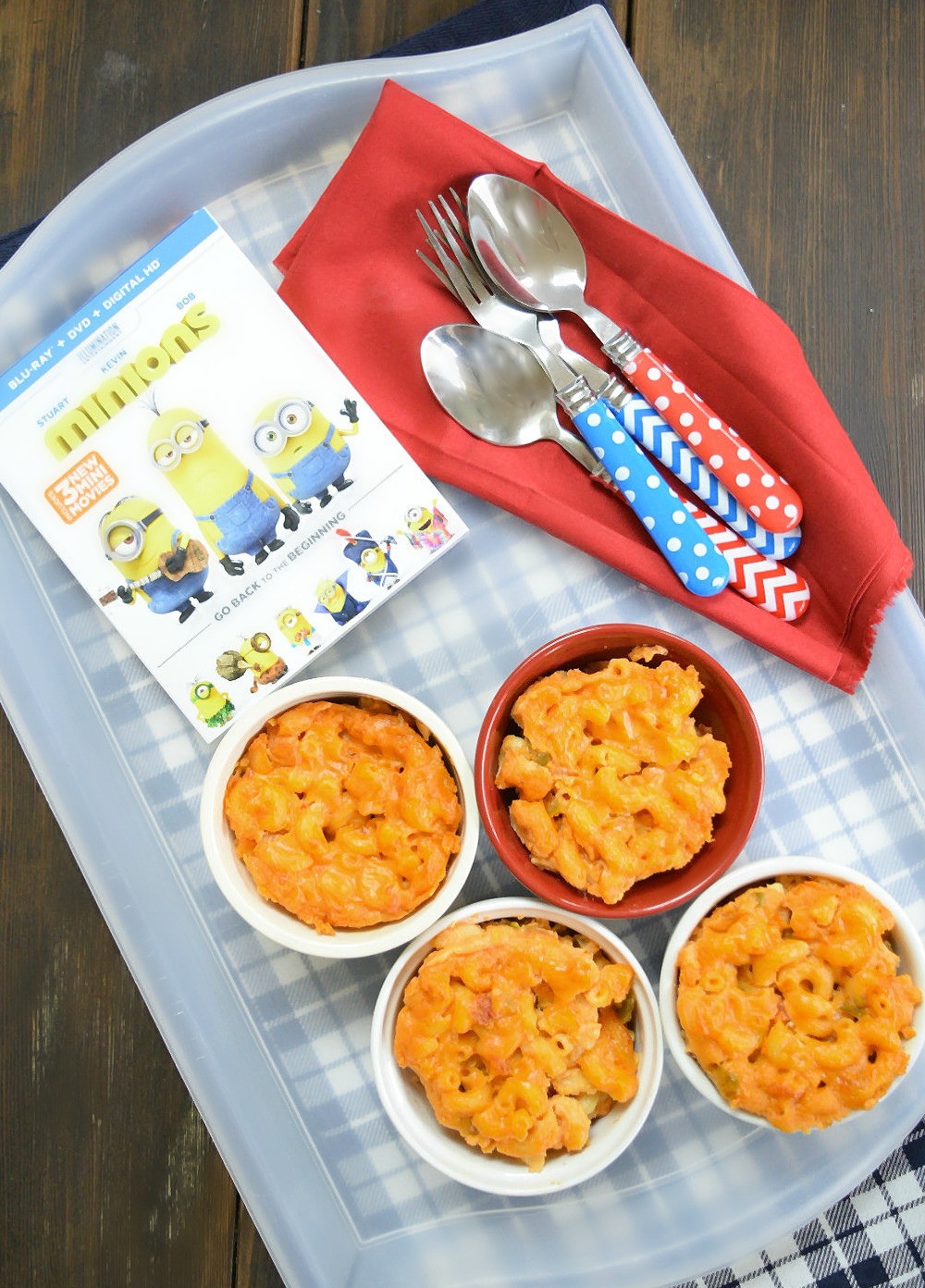 These Salsa Macaroni and Cheese Cups were inspired by the movie we are watching tonight! The much anticipated Minions movie has made it to our home! The minions meet Scarlet Overkill like the cheese and salsa in our pasta dish!
We have been waiting for the Minions movie release and the kids were so excited when the release date rolled around on December 8th, 2015. We smiled as we looked at the display that held the movie and some cute minion toys! You can find the Minions movie at several stores! Yay! Check out the minions website to find where you can see the cute display, purchase the movie and learn more about these goggle wearing, cute talking, yellow guys!
The Minions movie is funny, heartwarming, and entertaining for the whole family! We really enjoyed the story of how these cute yellow guys journeyed to find their next villain. Illumination Entertainment's Minions movie really captures your funny bone and your heart!
We purchased the Minions © 2015 Universal Studios. All rights reserved. Blu-ray/dvd combo pack! It came in handy when we had our movie night because our little love had a friend over who had to leave half way through the movie! She was able to take a disc home for her family to watch and we were able to continue until the end with our disc! It was a win-win for everyone!
These Salsa Macaroni and Cheese Cups are creamy pasta goodness with a little kick!
Salsa Macaroni and Cheese Cups
2015-12-14 20:49:09
Ingredients
2 cups elbow macaroni-cooked al dente
4 Tablespoons butter
4 Tablespoons all-purpose flour
2 cups milk
1 1/2 cups shredded Colby Jack cheese
5 slices thick sliced American cheese
1 cup salsa
salt and pepper to taste
Instructions
Preheat Oven 350F
Grease a large 6-cup muffin tin.
In a sauce pot on medium low heat melt butter and stir in the flour. This makes the roux! Love that word!
Stir in the milk, stir continually until milk has thickened.
Stir in the cheeses little by little, stirring constantly and allow to thicken.
Add salt and pepper to taste.
Stir in pasta and salsa.
Spoon out pasta evenly among the 6 muffin cups.
Bake at 350F for 25-30 minutes.
Allow to cool for a few minutes and then run a spoon along the edges and then spoon out into a ramekin or bowl.
Notes
The cheese may bubble over a little while it bakes, no worries the golden crust that forms on the pasta is delicious!
Three Kids and a Fish http://threekidsandafish.com/
Check out some creative good eats and sweet treats to enjoy while watching the Minions movie! What is your favorite part of the minions adventure?