Easy No Churn Cake Batter Ice Cream is creamy, sweet and the perfect treat!
It's birthday season in our house! Each year we have family and friends over to celebrate our kids birthdays! I love choosing a theme, decorating, cooking and baking for the big day! 
Days in advance I begin shopping, baking and decorating! Every year I forget to put out one dessert! One year it was mini cheesecakes, another year it was the fruit, and this year I forgot something too.
I even took a minute to recount in my head all the sweets I had made over the last several days. My mind drew a blank, I just couldn't remember.
The morning after the party I opened the freezer to grab something and there it was. The forgotten dessert! It was even a request from the kids that I make it. It was the first time I made No Churn Cake Batter Ice Cream and there it sat completely forgotten.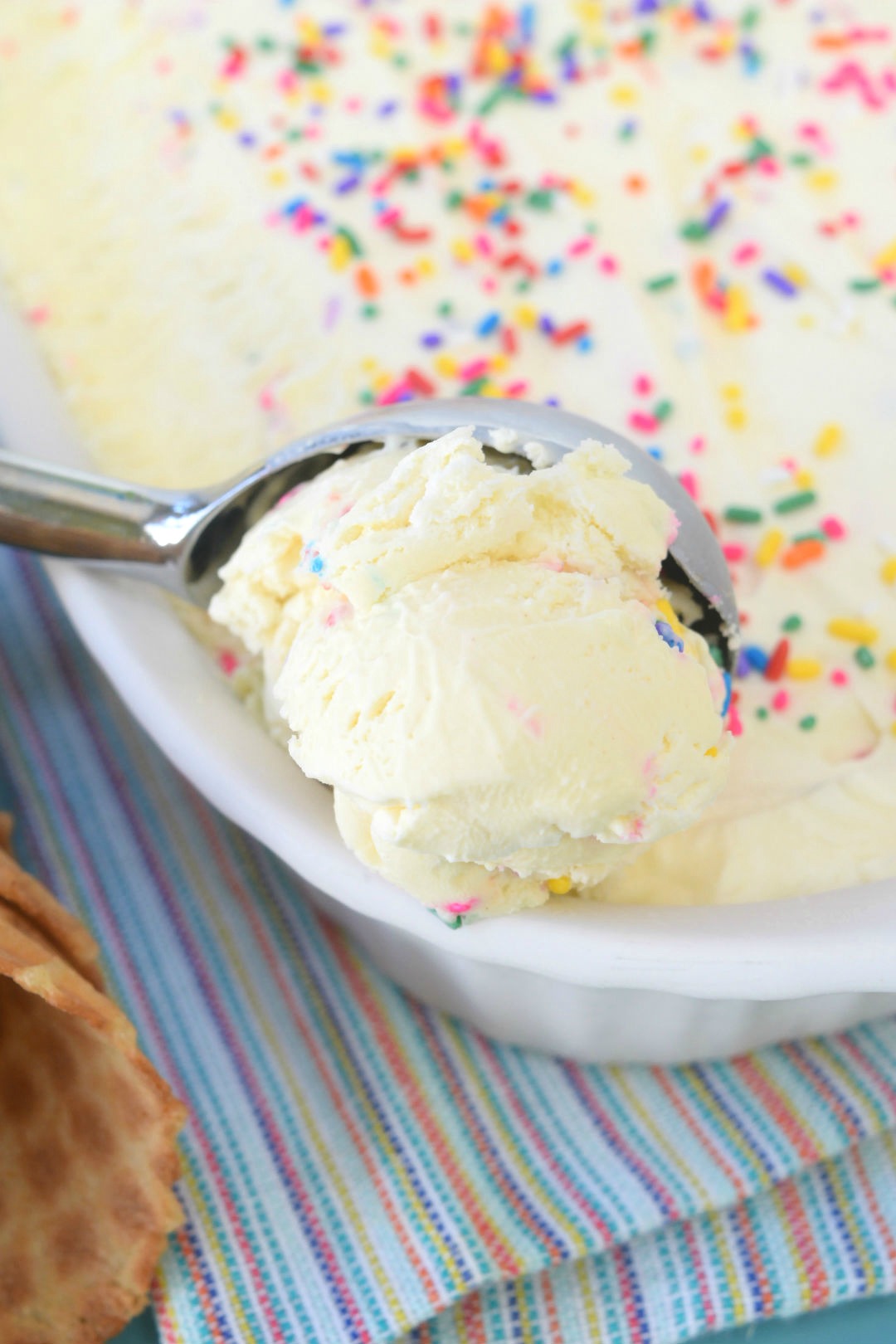 I just stood there staring at the dish. I really wanted to try it. I had waited three days after all. I decided to go for it! Even though it was only 9 am I decided to taste test and the taste test turned into a whole ice cream cone which turned into me taking pictures because this recipe is so good I just had to share it!
This is the creamiest No Churn Ice Cream I have made yet! It's velvety, sweet and it really tastes like cake batter. A win all around! No Churn Ice Cream is easy to make and takes no time at all to create! Freeze overnight and dish some out the next day! Maybe not at 9 am unless you forget to serve it the night before or just can't wait a minute longer! 
The sprinkles are stirred in and sprinkled on top which makes a great colorful addition to the milky color of the cake batter! This Cake Batter Ice Cream has a homemade taste and I know that it is going to be my most requested ice cream this summer!
No Churn Cake Batter Ice Cream
Ingredients
1-pint heavy cream
1- 14 ounce can sweetened condensed milk
2 Tablespoons unsalted butter- melted
1 cup yellow cake mix
⅓ cup + 2 Tablespoons any color sprinkles- divided
Instructions
In a bowl whip heavy cream until it becomes thick whipped cream.
In a separate bowl mix together the condensed milk, butter, and cake mix.
Gently fold the whipped cream into the cake batter mixture until well incorporated.
Gently mix in ⅓ cup sprinkles.
Spread evenly into any 2-quart container, sprinkle 2 Tablespoons sprinkles over top, cover.
Freeze overnight.
Notes
Keep leftovers stored in freezer
{No Churn Almond Joy Ice Cream}