No Churn Almond Joy Ice Cream is made with creamy coconut milk and the amazing ingredients that make almond joy candy bars!  
We eat ice cream almost every day in the summer! We try not to but we just can not help it! It's the creamy, flavor filled, toppings galore, and ice cream cones that pull us in!
There are so many different flavors of ice cream, cones, and toppings that it's almost overwhelming. Almost.
We sample and taste test so many different flavors and in the end, we have our favorites that we always return to! 
We really enjoy candy bar inspired ice creams! This no churn almond joy ice cream is inspired by my hubby's favorite candy bar!  
This no churn almond joy ice cream is just 5 ingredients! The secret to making this ice cream is whipped coconut cream! No ice creamer maker needed to create this creamy, smooth ice cream!
The kids  join me in the kitchen as one whips the coconut milk, one measures the shredded coconut and one little one sneaks chocolate chips! Everyone has a job in creating this no churn almond joy ice cream!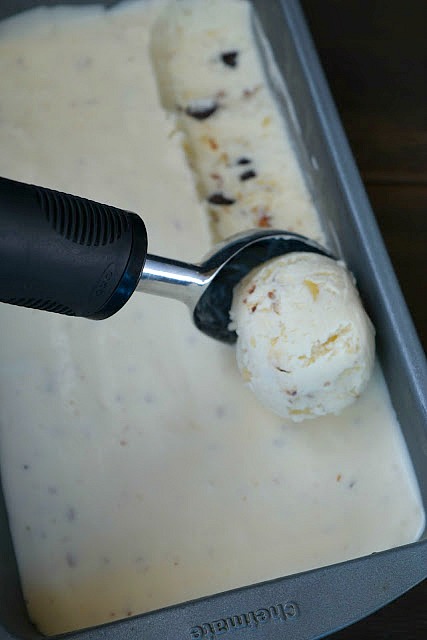 No Churn Almond Joy Ice Cream
Ingredients
No Churn Almond Joy Ice Cream
Ingredients
14 ounce can coconut cream
1-14 ounce can sweetened condensed milk
½ cup sweetened coconut flakes
½ cup almonds-chopped
½ cup chocolate chips
Instructions
Refrigerate the coconut cream overnight to allow it to become thicker.
The next day whip the cream until it becomes thickened.
Slowly incorporate the sweetened condensed milk.
Stir in the coconut, almonds, and chocolate chips!
Pour into a loaf pan, cover and freeze at least 6-8 hours before serving! I kept mine overnight and it was great!
Prefer Mounds Candy Bar instead? No worries just omit the almonds!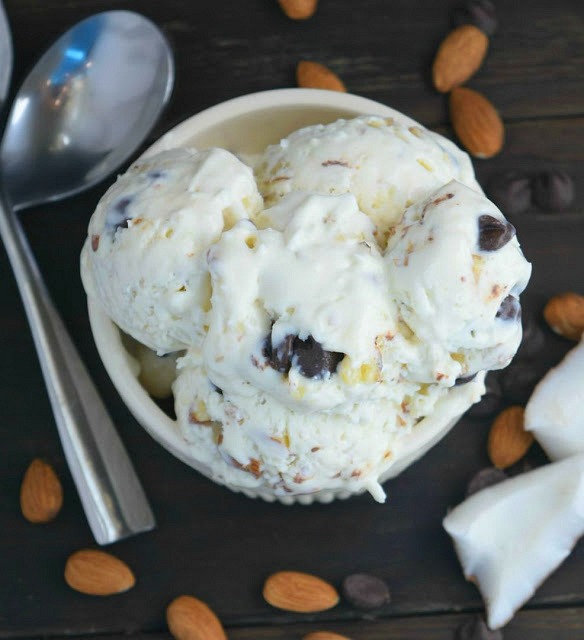 Using a fresh coconut shell as a bowl we serve this  no churn ice cream for dessert! It's creamy, sweet taste and texture are beyond delicious!
The almond joy ingredients send this ice cream over the top to make the perfect ending to a great day!
            What is your favorite candy bar that can be used in ice cream?