This shop has been compensated by Collective Bias, Inc. and its advertiser. All opinions are mine alone. #RealDelicious #CerealAnytime #CollectiveBias
7 ingredients mixed together to make a great anytime snack in these delicious no-bake cereal bites!
We are still in the heart of summer in our neck of the woods with it being prime vacation time! The kids and I head to Walmart to shop for all our vacation needs and as we enter we are greeted by a giant book that beckons us to go down the aisle of back to school supplies! 
With back to school coming soon we start planning for supplies, clothes, and easy to create meals and after school snacks! As we weave in and out of each aisle our cart looks like a cross between summer and fall! Vacation and school supplies all in one cart is how we roll!
Our family loves snacking all day! Someone's head is always peeking into the pantry to grab a handful of our favorite munchies. When we head on car trips, the lake, school, work, sports we fill a bag with snacks to enjoy!
One of our all-time favorite go-to snacks is cereal. Cereal comes in all shapes, sizes, flavors, and textures! It's great to enjoy in the morning, noon and night! It's amazing by itself, with milk, in a trail mix, stirred in a sweet treat, or in our delicious no bake cereal bites!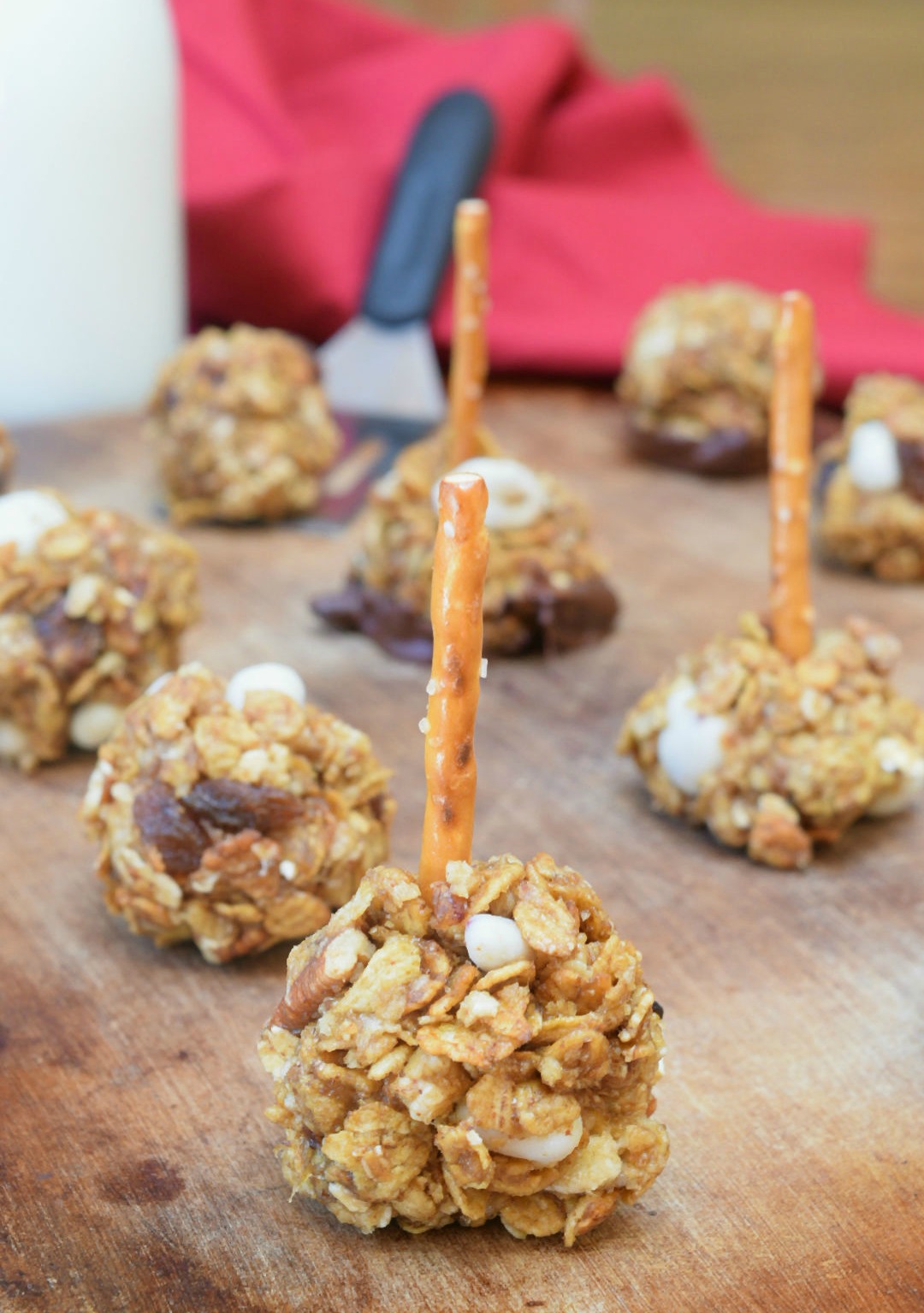 With 3 kids in full-time school and activities, I am always on the look out for great snack options at a great price! These no-bake cereal bites come together using just 7 ingredients! 
These snack bites can be enjoyed anytime, all you have to do is pour, mix, shape, refrigerate and enjoy! That's a snack that makes me want to break out in my happy dance, even if my kids roll their eyes!

It all starts with a great cereal that offers great savings! Post cereals offer a wide variety of cereal with something that everyone in the family will enjoy! To make these no-bake cereal bites we choose to use Great Grains Raisins, Dates, and Pecans. This cereal pairs perfectly with the other 6 ingredients with its crunchy flakes, and lots of sweet dates, raisins, and pecans!
Let's get stirring and rolling these cereal bites into shape!

No Bake Cereal Bites
Ingredients
¼ cup honey
2 Tablespoons creamy almond butter
2 small bananas -mashed
½ cup yogurt covered cranberries
16-ounce box Great Grains Raisins, Dates, Pecans cereal
½ cup dark chocolate chips/baking bar
½ teaspoon oil
Handful of pretzel sticks
Instructions
In a small bowl stir together honey and almond butter- set aside
In a large bowl add the mashed bananas, cranberries, and cereal. Mix well.
Add in the honey almond butter mixture. Mix well.
Refrigerate for 20 minutes.
Combine the chocolate chips/baking bar and oil and melt in microwave and stir well.
Take a heaping spoon of cereal mixture and roll into a ball making sure to mold it into a ball shape as you roll, dip in chocolate, place on cookie sheet.
Refrigerate for 15 minutes.
Stick a pretzel stick in the center.
Store in fridge in an airtight container for up to a few days. Can be frozen.
Grab one of these no-bake cereal bites on the go, or cozy up with a glass of milk, and a book! Either way these no-bake cereal bites are delicious!
While we were shopping we picked up not just Post Great Grains Raisins, Dates and Pecans cereal, we also stocked up on Cinnamon Toasters and Berry Colossal Crunch cereal too!

Walmart had everything we needed to create these no-bake cereal bites! I love the idea of a one stop shop!

Post has a great collection of recipes that use cereal! Check these recipes at on their Pinterest Board!