Make this creative DIY Mother's Day Plant Project with Printable Label that is fun to make & carries great memories!
For the past three years, I have wanted one thing for Mother's Day. To stay home and plant flowers and my garden. I sit in the driveway while the sun shines down and fill my pots with soil and flowers, and then I slowly make my way to the flower beds. I love every moment of this time.
There are not many days where I completely hit the pause button on life and do nothing. This is one day I have reserved for exactly my idea of doing nothing but gardening.
Before Mother's Day, the kids and I create gifts to give my Mom. This year we decided to stick with the flower theme.

I love capturing my kid's handprints every chance I get. I know one day I will love to look back and see just how tiny their hands were. The kids decided it would be a fun project to place their handprints on terracotta pots.
I had a hard time finding terracotta pots! It took four stores to locate them and I let out a really big whoop whoop when I spotted the clay colored pots. It seems as though these classic terracotta pots are being replaced by plastic ones. Plastic pots would work for this project as well!

I painted acrylic paint on the kids hands and pressed them onto the pot. For my Mom's pot, we did the hands in different directions to match the printable label I made that says "Hands Down #1 Grandma". We are going to use this label as a gift tag and a garden stake.

After the hand prints dry completely we seal it with a layer of Mod Podge that will make the pot nice and shiny. If you have read some of my other DIY projects you will find that I am slightly obsessed with Mod Podge.
I love how it seals the paint and leaves a nice shine to the finished product. In the 90's it was rubber cement and now it's Mod Podge. Did you grow up using rubber cement!??? I loved the thick glue that would stick to everything, and how it clumped up into little glue balls. 🙂 Ah, the memories of junior high at class!
Ok, back to the Mothers Day Gift… We chose flowers that will go great on my Mom's patio and did handprints the colors of the flowers.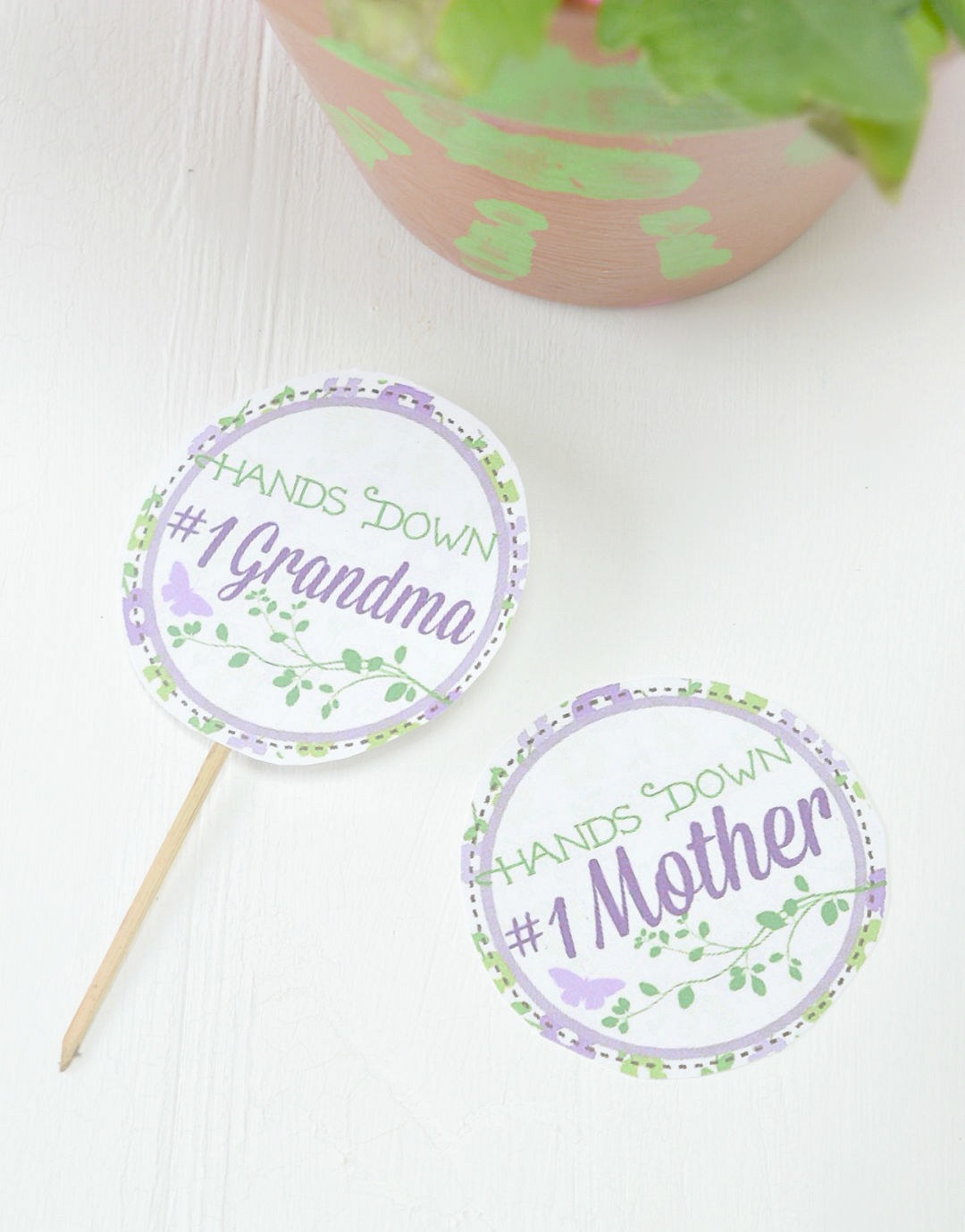 Handprints, flowers, and a nice printable label created an amazing, easy DIY Mothers Day Gift that will have lasting memories. Each year a new flower can be added to the pot, or it can even be turned into a pencil holder that holds these DIY Washi Pencils.
What You Need:
Terracotta Pots
Acrylic Paints-Any Color
Paintbrush
Paint Tray
Lightweight Cardstock for labels
String/Large Toothpicks
Directions:
Pour some paint into the paint tray.
Paint a little hand using the paint brush.
Place the little hand on the pot and press down.
Allow to dry completely.
Brush a pretty thick coat of Mod Podge on the flower pot. Allow to dry completely.
Plant flower in pot.
Print label out and tape to the back of a toothpick for a garden stake or punch a hole and string through for a label.