My kids have been asking for sometime to try Lucky Charms cereal and this morning I surprised them with a box! As they enjoy breakfast they have created different ways to eat this cereal. They dump the cereal out, sort it by marshmallows, trade marshmallows, play tic-tac-toe all while eating and chatting! 
It has become the most entertaining cereal in the house! Hopefully after the box is finished they can become just as easily entertained with Cheerios! 
I was able to sneak some cereal away to create these Lucky Charms Popcorn bars! Lucky Charms cereal, marshmallows, and microwave popcorn come together to create this sweet and salty treat! To add some extra sweetness I drizzled white chocolate and sprinkled some shamrocks on these lucky charms popcorn bars!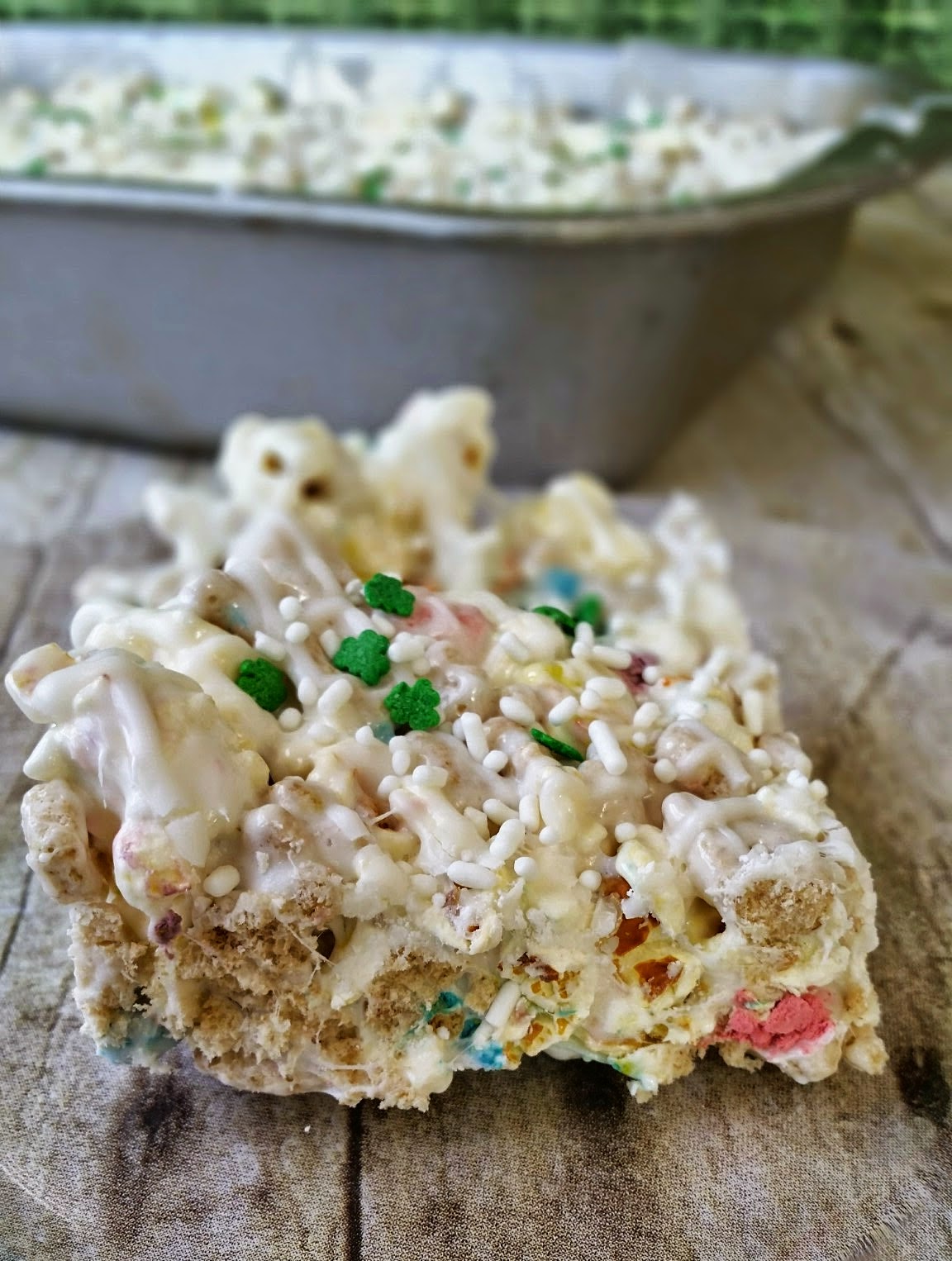 This sweet and salty popcorn bar is chewy, crunchy and delicious! The added white chocolate drizzle and sprinkles finishes the yummy look of these Lucky Charm popcorn bars! 
Lucky Charms Popcorn Bars
Ingredients
1 bag of microwave popcorn
1 bag of mini marshmallows
¼ cup butter
2 Tablespoons corn syrup
5 cups of Lucky Charms cereal
For the white chocolate drizzle:
¼ cup of white chocolate candy melts or chips
1 teaspoon oil
sprinkles-optional
Instructions
Instructions
Grease a 9x13 pan
Microwave the bag of popcorn and place popcorn and Lucky Charms cereal in a large bowl, set aside.
In a microwave safe bowl melt the butter. Stir in the corn syrup.
Add in the marshmallows and stir. Microwave for 1 minute.
Combine with popcorn cereal mixture and mix together until well coated.
Spread evenly in the pan, pressing down slightly.
Melt chocolate and oil together, and using a piping or ziploc bag drizzle white chocolate over top of the popcorn bars. Spread the sprinkles over the white chocolate,
Refrigerate for 15-20 minutes! Enjoy! 🙂
Notes
Cook's Notes: When the popcorn is in the bowl, I take a Tablespoon and I go fishing for all the kernels. This way no one loses a tooth when biting into a bar! 🙂
Celebrate St. Patrick's Day: