This shop has been compensated by Collective Bias, Inc. and its advertiser. All opinions are mine alone. #MullerMoment #CollectiveBias
This rich, creamy indulgent Muller iced cream inspired yogurt is the perfect way to enjoy a sweet treat without any guilt at the end of a long day! This flavor filled yogurt is also the perfect way to catch a few me moments. 
Available in 3 delicious flavors at Walmart these ice cream inspired yogurts are great to enjoy fresh, frozen and especially in these fruit and yogurt filled crepes. 
I have some unexpected down time and in the quieter moments I love to create recipes for my family to enjoy! These easy to make fruit and yogurt crepes are a thin crepe, thick creamy yogurt filling, raspberry sauce, and topped with silky whipped cream! 
Before the craziness of the house kicks in I sit back and take a bite of this decadent sweet crepe and I enjoy this no guilt-for eating this sweetness me moment.
It's time for homework, and dinner to begin and I think my family is really going to enjoy this sweet creation to end the night!
One day this week March 12th-15th I am headed to my local Walmart to check out a Muller ice cream inspired yogurt demo! Find a demo near you and check out amazing recipes using Muller yogurt: 
Muller Yogurt
.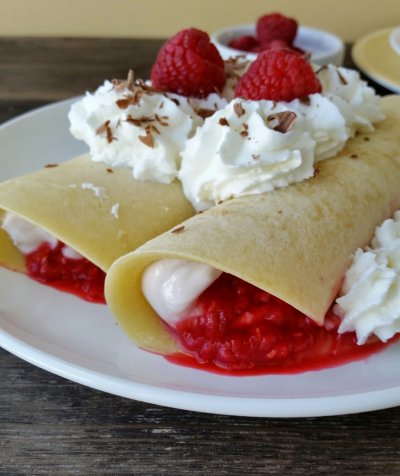 Fruit & Yogurt Filled Crepes
Ingredients
For the crepe:
1 cup all purpose flour
2 eggs
½ cup water
½ cup milk
¼ teaspoon salt
1 Tablespoon granulated sugar
For the yogurt filling:
8 ounce cream cheese-softened
2 Tablespoons sugar
1-5.3 ounce Muller Vanilla Bean Yogurt
1-5.3 ounce Muller Raspberry Chip Yogurt
For the raspberry sauce:
1 pint raspberries
2 Tablespoons lemon juice
1½ teaspoons cornstarch
¼ granulated sugar
For the whipped cream-optional
8 ounce heavy cream
3 Tablespoons granulated sugar
Instructions
For the yogurt filling:
Beat together the cream cheese and sugar until creamy.
Add in the Muller Vanilla Bean and Raspberry chip yogurts.
Place in fridge while you create the sauce and crepes.
For the sauce:
Place the pint of raspberries, sugar, lemon juice, salt, and cornstarch in a small pot and stir together. Cook on low until thickened, stirring often. Remove from heat to cool.
For the crepe:
Using a mixer, beat together eggs, water, milk. Add the sugar and salt. Slowly incorporate the flour. Mix together until blended.
Heat up a 10 inch (or whatever size you have-you will just have to adjust the batter amount) saute pan, add a pat of butter.
Take about a half cup of the crepe mixture and pour it into the pan.
Pick up the pan and circle the batter so that the batter is spread equally around.
Let the crepe cook until it begins to slightly rise and then flip over. Cook each side about 1 minute.
Repeat each step. This batter made 6 crepes. They were thin, but not to thin because of the amount of filling I used.
Stack each completed crepe on a plate with a paper towel in between each one, this step allows the little bit of grease from the butter to dry up and it keeps the crepes from sticking together.
For the whipped cream(optional):
Whip together the heavy cream and 3 Tablespoons of sugar until you have thicken whipped cream.
Let's create the crepe:
Place a crepe on a plate.
Take 1 Tablespoon of yogurt filling and spread it down the center of the crepe.
Take 1 Tablespoon of raspberry sauce and spread it on top of the yogurt filling.
Taking one end of the crepe, roll it up!
Top with fresh whipped cream-optional! Dig in!
 I am loving these yogurts and my kids have been asking for one each morning! There are so many great choices!  Do you love Muller? Visit: 
www.mullerquaker.com
 to sign up on for their mailing list and receive the latest news and offers. As a thank you, you'll also get a coupon to use toward your next purchase.