This Fruit Salsa comes together in no time and is delicious served with Homemade Cinnamon Sugar Tortilla Chips!
Fruit Salsa is a great healthy way to jam pack tons of good fruit in one place, add a little sweetness, serve with some chips and it's an award winning combination. My family gobbles up this fruit salsa and it makes me happy because it's not only good for you but it's so easy to make! 
  Stir the fruit salsa together while the Cinnamon Sugar Tortilla Chips bake in the oven! In under 15 minutes you will be serving up a tasty treat!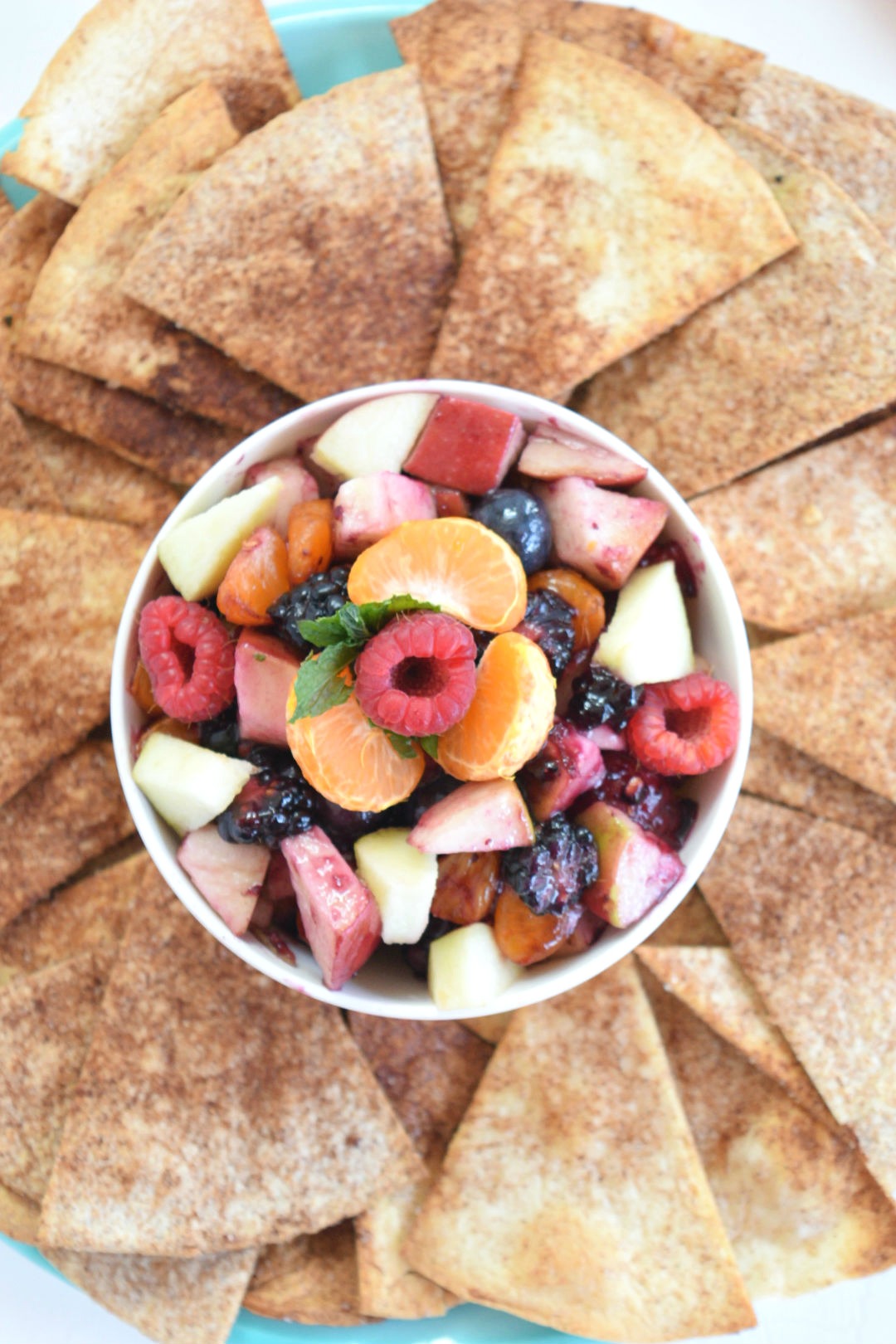 I use different fruits depending on the season!  I love the flexibility of this fruit salsa to use any fruit, and jam! Our favorites are the berry and tropical fruit salsas! 

Fruit Salsa With Cinnamon Sugar Tortilla Chips
Ingredients
Fruit Salsa
1 cup berries
2 apples
1 orange
2 kiwi, peeled
1 Tablespoon lemon or lime juice
2 Tablespoons light brown sugar
2 Tablespoons jam/perserves-any type
Cinnamon Sugar Tortilla Chips
6 tortillas
1 Tablespoon cinnamon
2 Tablespoons granulated sugar
¼ cup canola oil
Instructions
Fruit Salsa
Dice fruit and place in bowl
Add in lemon or lime juice
Add brown sugar, stir
Add the jelly or jam and stir until combined
Cinnamon Sugar Tortilla Chips
Preheat Oven to 400F
Brush both sides tortilla with oil
Combine sugar and cinnamon together
Sprinkle cinnamon sugar on the tortilla
Turn tortilla over and repeat
Cut into eight wedges
Place on a cookie sheet
Bake at 400F for 6-8 minutes
 I also top my yogurt and oatmeal with this fruit salsa! It's a filling, good for you salsa and I promise you can stop at just one scoop!
Look below for five different combinations of fruit salsa that you can make!
Variations on the fruit salsa: 
Summer Sunshine:
1 cup strawberries, diced
2 kiwis, diced
2 peaches, diced
Good Morning:
1 cup fresh apricots, diced
2 apples,diced
1 cup blueberries
Berry Good:
1 cup strawberries,diced
1 cup raspberries
1 cup blackberries
1 cup blueberries
Tropical Getaway:
1 cup pineapple,diced
2 mangos,diced
1 cup papaya,diced
1/2 cup shredded coconut
Melon Madness:
1 cup cantaloupe, diced
1 cup honey dew melon, diced
1 cup watermelon, diced
What would be your favorite fruit salsa combination?
This post was originally share in 2014, and has been updated!