This creamy, buttery, sweet crock pot caramel dip is 1 ingredient that is perfect for dipping, drizzling, or giving as a gift with the free printable tag created here! 
When we went apple picking a couple of weeks ago we were so happy at the variety of apples that had in the orchard! 
My sweet boy loves Macintosh, the sweet girls and I love the crisp Cortland, and my handsome hubby goes for the Red and Golden Delicious! 
The weather was perfect harvest, the sun shining on the apples, a cool breeze blowing, and the crunch of the first bite of an apple filling the air!
 Ahh, love this time of year and all the wonderful, yummy dishes created using apples! Apples are great on their own, in sweet and savory recipes, or as something to dive into a dip with!
This caramel dip is one ingredient that sits in a crock pot for 8 hours and when completely cooled comes out to this rich, buttery, creamy dip!
It was back to school night this past week and we brought with us an apple for the teacher and to sweetened the deal we added in a jar of this caramel dip!!  
This is one crock pot caramel dip that is worth dipping into and is the perfect fall gift!!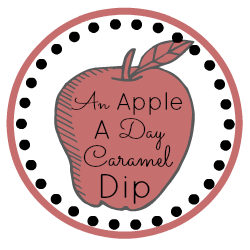 Crock Pot Caramel Dip + Printable
Ingredients
4-14 ounce cans sweetened condensed milk.
water
Instructions
Prep five 8 ounce mason jars by rinsing them in hot water. Set aside.
Place the cans of sweetened condensed milk into the crock pot.
Cover cans with water. The cans must be completely covered at all times. Be sure to check on this half way through cooking and add water if necessary.
Cook sweetened condensed milk for 8 hours on low.
Allow water to become cool enough to pull the cans out of the water.
Completely cool the cans. If you open the can before it's completely cool the caramel dip will be on the chunky side instead of smooth. Trust me, it's worth the wait! 🙂
Open the cans and scoop the caramel dip into the mason jars.
This caramel dip is not shelf stable even in a mason jar, keep dip refrigerated.
Serve warm or cold, either way its amazing!!! 🙂 🙂