Two Crisp Rice Treats cut into squares with a scoop of creamy, homemade ice cream sandwiched in-between them is the perfect summer sweet treat! 
Nothing beats a bowl of ice cream! There are so many flavor choices and toppings that can join the ice cream! What's better than a bowl of ice cream? Maybe ice cream in a cone, between 2 cookies, or better yet between 2 crisp rice treats! There are great summer treats and then there are those that make you swoon a bit when you take a bite! 
These Crisp Rice Ice Cream Sandwiches are a make you swoon, worth the calories kind of dessert! Imagine a big scoop of your favorite ice cream in-between two perfectly cut crisp rice treat squares! In doesn't get much sweeter than this, and trust me it is a really sweet treat!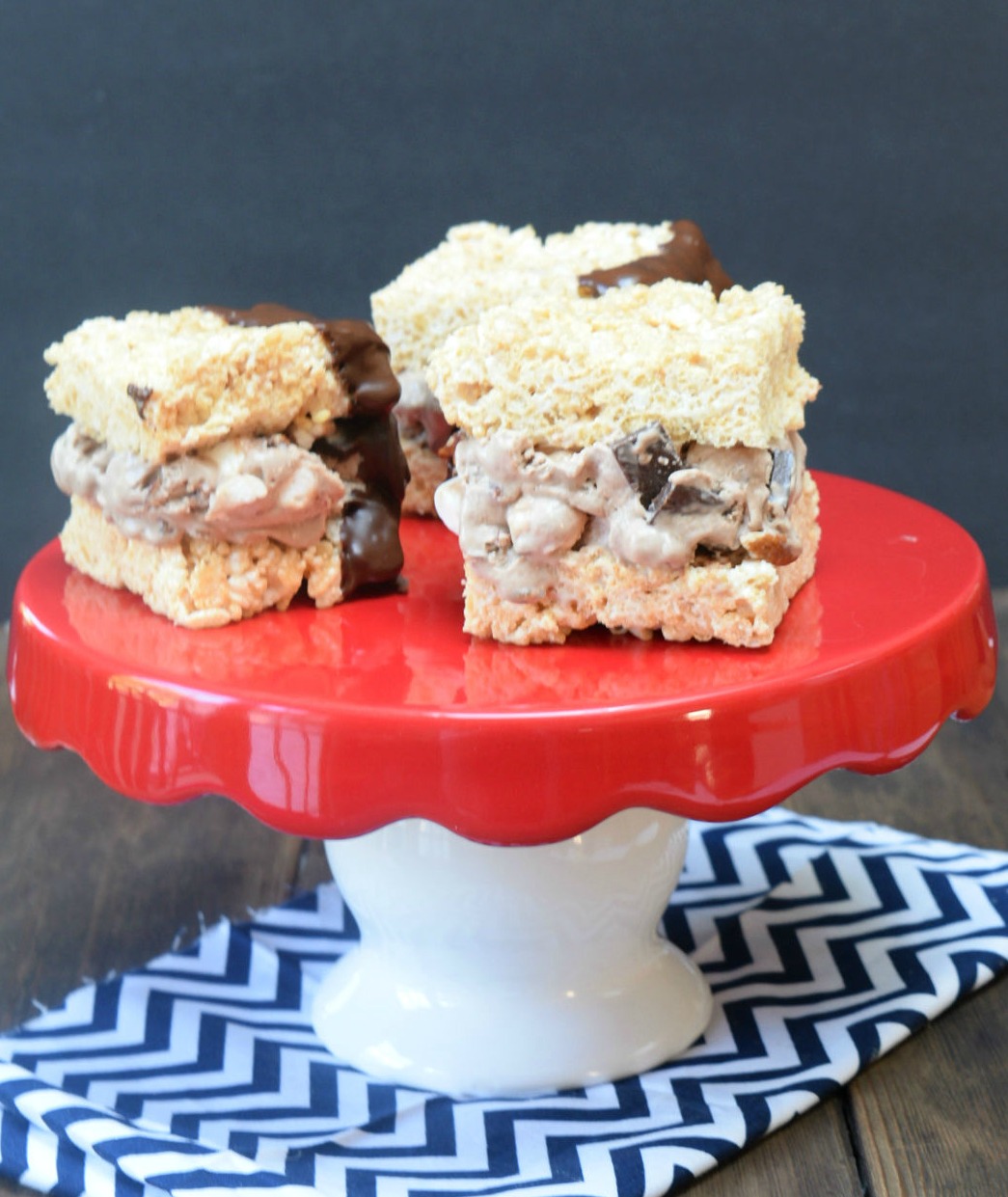 We start out making Crisp Rice Treats and then we head to the freezer to find some ice cream.
In our freezer, we had some of our favorite no churn homemade ice cream that comes together so easily and has amazing flavor! Rocky Road for the kids, Peanut Butter and Jelly for me, and Cake Batter for my hubby!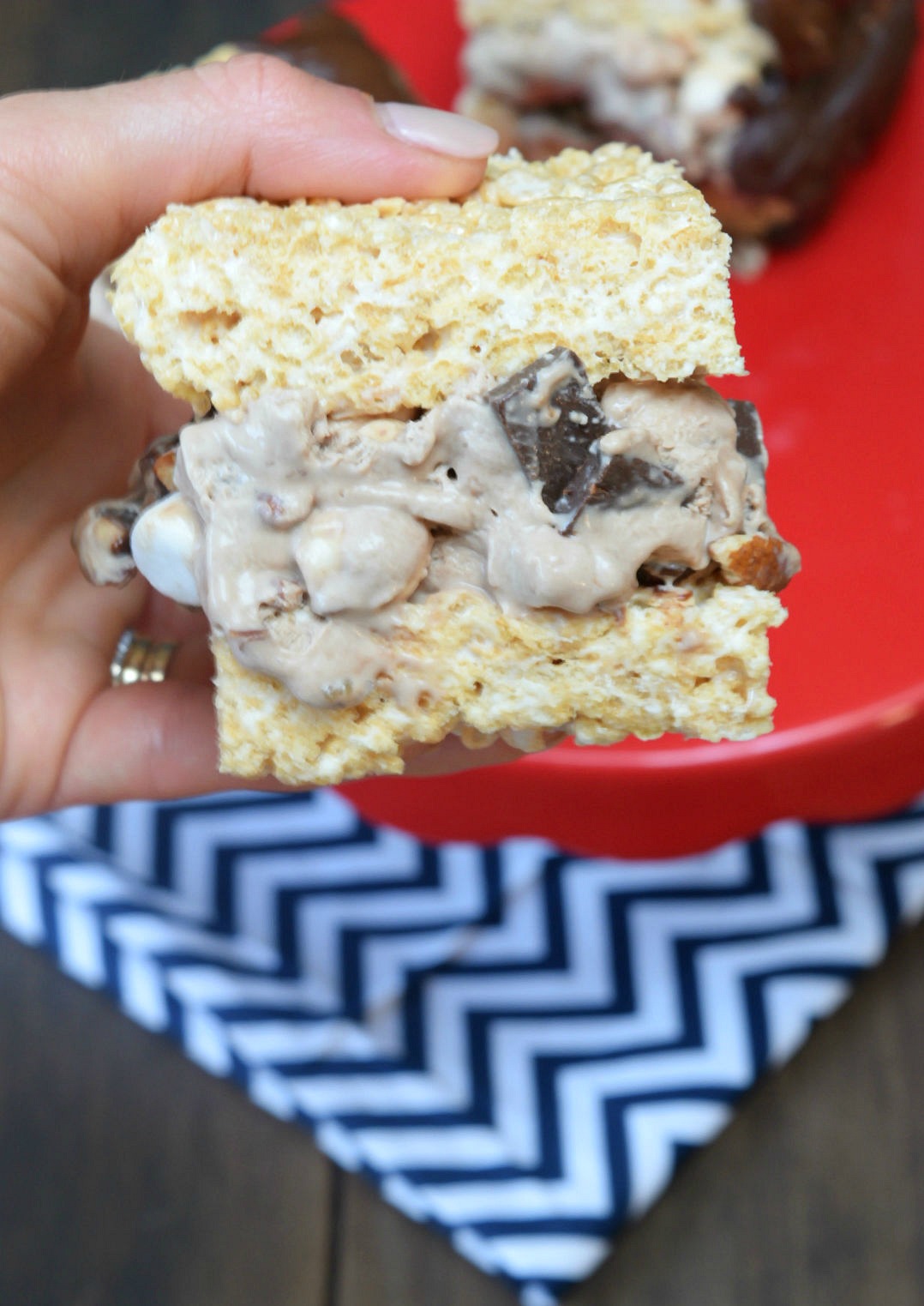 Let's scoop some out and sandwich it in-between 2 crisp rice treats! To go the extra mile we dip the ice cream sandwiches into chocolate! Unbelievable taste happening here! We have taken this dessert to a whole new level!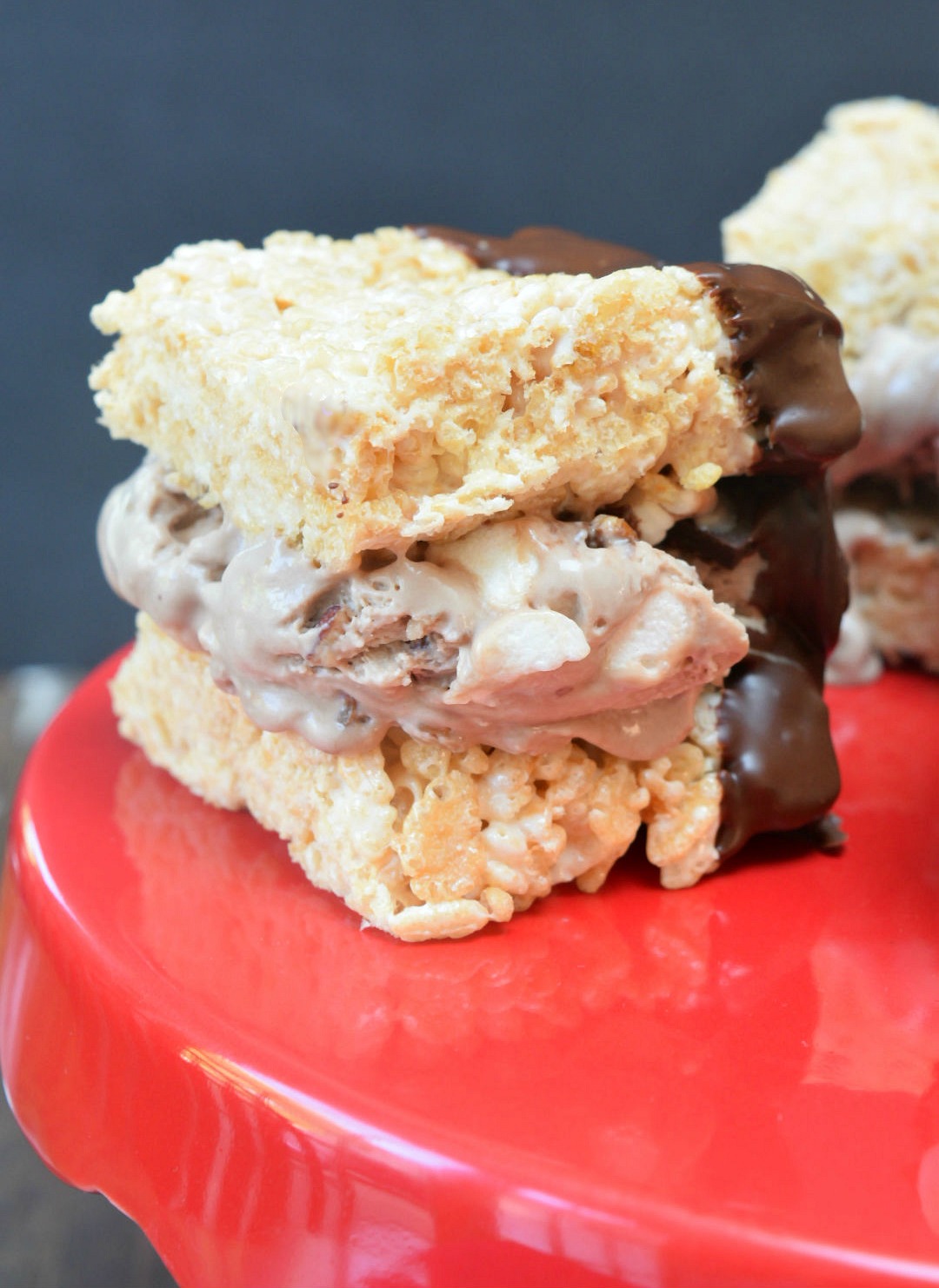 Crisp Rice Ice Cream Sandwiches
Ingredients
¼ cup butter
1- 10-ounce bag mini marshmallows
6 cups crisp rice cereal
½ gallon favorite ice cream- store bought orhomemade
1 cup chocolate chips
½ teaspoon oil
Instructions
In a microwave safe bowl melt butter, stir in marshmallows until coated with butter
Place in microwave for 1 minute
Stir in cereal
Spread crisp rice mixture evenly in a greased 8x8 baking dish
Place in refrigerator for 20 minutes
Cut into squares.
Take a large scoop of ice cream and place on one crisp rice treat, place another on top and press down.
In a small microwave-safe bowl combine chocolate and oil, place in microwave for 20 seconds, stir until melted. Place in microwave again for a few seconds if needed
Dip one end of the crisp rice ice cream sandwich in the bowl of chocolate.
Place in freezer until chocolate has hardened
Keep treats in freezer until ready to serve-Enjoy!