Enjoy a warm bowl of this Creamy Leek and Potato Soup that has one ingredient that brings this soup to a whole new level!
Recently, my sisters, Mom and I went to a one-day ladies retreat! After the retreat, we went to one of my favorite restaurants for lunch! In the winter, I absolutely love trying ou different soups that restaurants have to offer! 
Traditional soups with classic flavors served warm in big bowls with crusty bread on the side is perfect for lunch on a cold day. The soup of the day is Creamy Leek and Potato Soup. Sign me up for a bowl. 
The smell of this delicious, creamy soup as it made its way to our table was amazing! There was something so tasty about this soup that I couldn't quite put my finger on. It was creamy, starchy, with hints of oniony flavor and fresh cracked black pepper. There was something more though. It was smooth, slightly sweet, with a pungent flavor taste to it..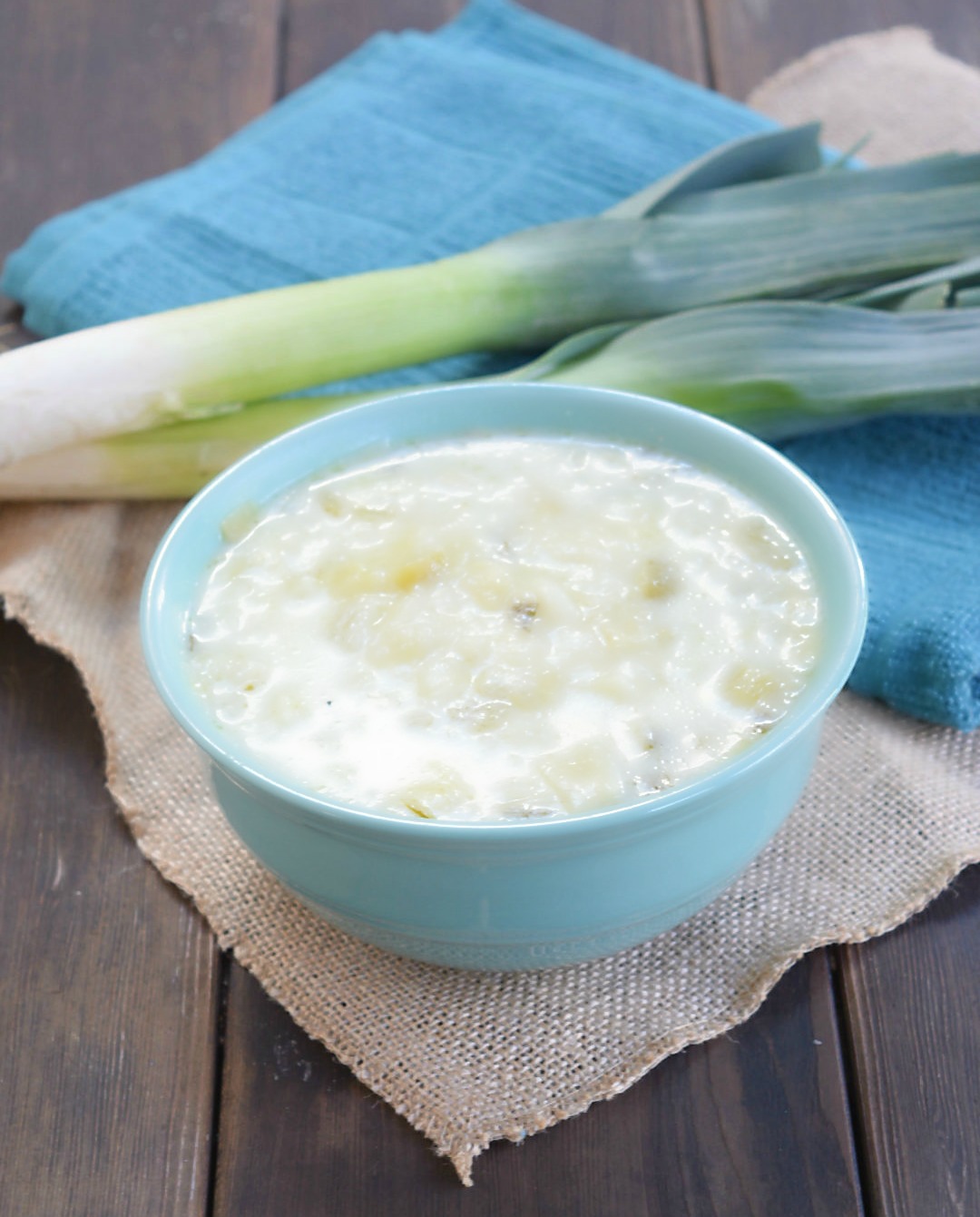 It took me until I got to the end of the soup bowl to realize what it was that made this Creamy Leek and Potato Soup so amazing. Roasted Garlic. It was the taste of slow-roasted garlic, the kind that spreads like butter on toasted crusty bread. 
I knew from my first taste that I was headed home to recreate this delicious, must have again soup! And so much like the soup I tasted at the restaurant my version of the Creamy Leek and Potato Soup has the secret ingredient of roasted garlic!
Creamy Leek and Potato Soup
Ingredients
3 Tablespoons unsalted butter
3 Tablespoons oil-divided
4 stalks of celery
6 leeks-white part
1 medium yellow onion
3 pounds potatoes-peeled and diced
8 cups chicken broth
1 medium whole head roasted garlic
2 bay leaves
2 springs of fresh rosemary
¼ cup fresh Italian flat leaf parsley-chopped
½ cup heavy cream
1 cup 2% milk
salt and fresh ground black pepper to taste
Instructions
Let's roast some garlic! Preheat oven to 375F. Peel the outer skin off garlic head, place 1 Tablespoon oil in small baking dish, and put garlic on top. Bake for 20-25 minutes until garlic is golden on top. Set aside.
Place 2 Tablespoons oil in a soup pot and place on medium heat.
Dice celery, leeks, and onion add to soup pot and saute.
After they are mostly cooked, add butter and lower the heat. This will allow the onions to caramelize and add great flavor.
Add in potatoes, chicken broth, and herbs.
To add the garlic simply peel back or squeeze out the roasted garlic and stir into soup.
Cover and simmer for 40 minutes.
I take a hand masher and place in the soup pot and mash the soup.
Stir in the heavy cream and milk, simmer for 10 minutes.
Add salt and pepper to your taste!
Serve with toasted baguette!
Notes
I toss the herbs in to get full flavor and I remove before mashing!. If you do not want bits of herbs floating in your soup tie the herbs up, wrap in cheesecloth and toss in! Remove before mashing!
To mash the soup I use a hand masher. I like my soup on the chunky side so doing it by hand gets that perfect chunky texture. For a smoother texture you can use a food mill, or food processor.