The ultimate comfort food Chicken Pot Pie is being served with a homemade cornbread top! 
Growing up one of my favorite dinners was Chicken Pot Pie. My Mom made it from scratch with a buttery, flaky crust, and a creamy inside filled with chicken and mixed vegetables!
Now that I am a Mom I am dishing up the same great comfort food with a little twist! For my Chicken Pot Pie, I combine our love for the creamy inside with my homemade cornbread top! This comfort food dish takes some work and after one forkful I know that it was all worth it!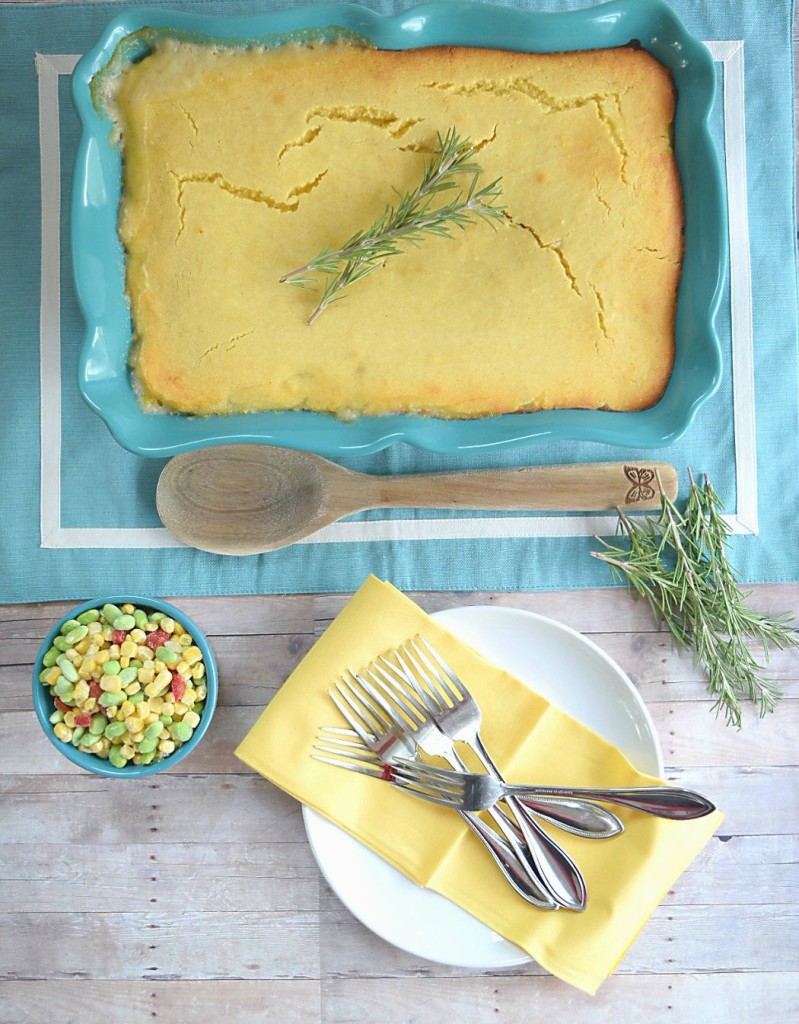 Buttery, sweet cornbread is the topping for the creamy, flavorful chicken, potato and mixed vegetables that lie beneath the surface! Let's get to creating this ultimate comfort food dish that even tastes great as leftovers!
Chicken Pot Pie with Cornbread Top
Ingredients
1 lb chicken breast
3 potatoes-any type
16 ounce bag frozen mixed vegetables
⅓ cup onion-chopped
2 cloves garlic-minced
1 Tablespoon fresh rosemary-chopped fine
salt and fresh ground black pepper to taste
5 Tablespoons butter
6 Tablespoons flour
5 cups low/reduced fat milk
Corn Bread Top:
4 Tablespoons butter, melted
½ cup granulated sugar
1 egg
¾ cup all-purpose flour
1 Tablespoon baking powder
1 teaspoon salt
1½ cups Yellow Corn Meal-fine
1 cup low/reduced fat milk
1 Tablespoon of lime juice
Instructions
Preheat Oven to 375F
Bake Chicken until fully cooked, cool, dice and set aside in large mixing bowl.
Peel, dice and fully cook potatoes, drain and add to large mixing bowl.
Add thawed mixed vegetables to the bowl.
In a pot on medium heat melt 5 Tablespoons butter, and add onions. Saute until tender. Slowly stir in 6 Tablespoons flour. Add the rosemary, salt and pepper.
Stir in the milk and whisk until well incorporated. Turn on low heat and allow to come to a slow boil and thicken, stirring every couple of minutes. As it thickens, stir contionusly. Remove from heat and allow to sit for a couple of minutes.
Add the milk mixture to the large mixing bowl. Mix all ingredients well.
Spread mixture evenly out in a greased baking dish.
In a large bowl mix together 4 Tablespoons melted butter and sugar.
Stir in egg.
Add in flour, baking powder, and salt
Alternate adding in the corn meal and milk. Add in lime juice.
Mix together well and spread corn bread batter evenly over chicken mixture.
Bake at 375F for 40-45 minutes.
Cornbread should be golden on top and come out fork mostly clean!
Notes
I use a 12 x 9 baking dish that is 3.6 quarts deep.
You can also use a deep dish pie pan.