This shop has been compensated by Collective Bias, Inc. and its advertiser. All opinions are mine alone. #MuellersMatchmaker  #CollectiveBias
This Cheesy Chicken and Broccoli Casserole is a family favorite meal and comes together easy on a busy weeknight!
I hit snooze for the third time. It's 5:30 am and it's time to get a new week started. My mind is already racing with all the things that need to get done and I have decided that I need more hours in the day. My feet hit the cold ground and putting one foot in front of the other I follow the strong scent of freshly brewed coffee. 
In what seems like 5 minutes later, I hear the pitter patter of small feet coming my way. I am always amazed that my kids can wake up and be ready to go in no time at all chattering as if they have been up for hours. I pour a second cup of coffee before even saying a word. 
Breakfast served, lunches made, teeth brushed, hair done, racing to find the right coat, backpacks on, running after the bus, kiss the hubby goodbye and we have officially begun our Monday. 
Doctors visits, a friend for coffee, laundry to fold, furniture to dust, oil change for car, basketball, girl scouts, music lessons to be had and dinner. Ah, yes, what should I make for dinner? Something easy, good tasting and good  to have before bouncing a ball down the court, and something smile pleasing for the whole family. 
I am out on my walk still thinking about what to make and it dawns on me! I should use the Mueller's® Pasta Matchmaker Quiz. Even after 17 years of cooking in my own kitchen and becoming an experienced home cook, I am always looking for recipes that are new and great to make for the whole family. 
I stumbled upon this amazing Pasta Matchmaker recently and each time I have been completely wowed by amazing recipes that come from it! The quiz ask you a series of questions before revealing your pasta match! Quite often I have all the ingredients on hand which works out even better. 
I am home from my walk and back at my computer to take the quiz! Here, I'll show you how it works! You start out at pastamatchmaker.com and click on quiz. 
Answer the questions to get to your just right recipe. The Pasta Matchmaker quiz is designed to give a custom result based on what you are in the mood for, who you are cooking for, or what occasion you are creating the meal for!
Here are some of my favorite questions that they ask:
After answering several questions your recipe will appear.  Cooking allows me to create great food for my family and with Mueller's® pasta being so versatile it really allows me to be creative in the kitchen. 
Here's what I am cooking for dinner tonight:
I have the ingredients right at home and I know exactly how long it will take, so I print the recipe out and head down the hall to the laundry that is calling my name.
Fast forward and hours later kids are off the bus, snacks and homework are being worked on, and it's time to start dinner. Let's get cooking!
It all starts with the right ingredients and using the recipe printout I pull it all together.
Cheesy Chicken & Broccoli Casserole
Ingredients
16 ounces Mueller's® Jumbo Elbows
16 ounces fresh or frozen broccoli florets
2 tablespoons butter or margarine
¼ cup all-purpose flour
Salt and pepper to taste
2 cups milk
3 cups shredded cheddar cheese, divided
2 cups cooked chicken, diced
Nonstick cooking spray
Instructions
Preheat oven to 375°F. Spray a 9 x 13-inch baking dish with nonstick cooking spray.
Cook pasta according to package directions; after 6 minutes of boiling, add broccoli cuts to pasta and continue cooking per package directions; drain and set aside.
Return hot, empty pan to medium heat and add butter. Once butter has melted, whisk in flour until blended well. Season with salt and pepper to taste.
Add milk and cook, whisking constantly, until mixture simmers.
Remove from heat, and stir in 2-1/2 cups shredded cheddar cheese, stirring until melted and smooth. Add chicken, pasta, and broccoli, and stir gently to mix.
Place in baking dish. Bake uncovered for 20 minutes or until internal temperature reaches 165°F.
Sprinkle with remaining ½ cup cheese and bake, uncovered, for an additional 5 minutes or until cheese is melted.
Cook's Tip: Add 1 teaspoon of poultry seasoning to flour mixture with salt and pepper for added flavor.
 Place in baking dish. Bake uncovered for 20 minutes or until internal temperature reaches 165°F.
Sprinkle with remaining 1/2 cup cheese and bake, uncovered, for an additional 5 minutes or until cheese is melted.
This Cheesy Chicken and Broccoli Casserole was creamy, full-flavored and delicious! This pasta dish was filled with great ingredients that made the whole family smile! This recipe went into our family' recipe box and is a definite must make again dish!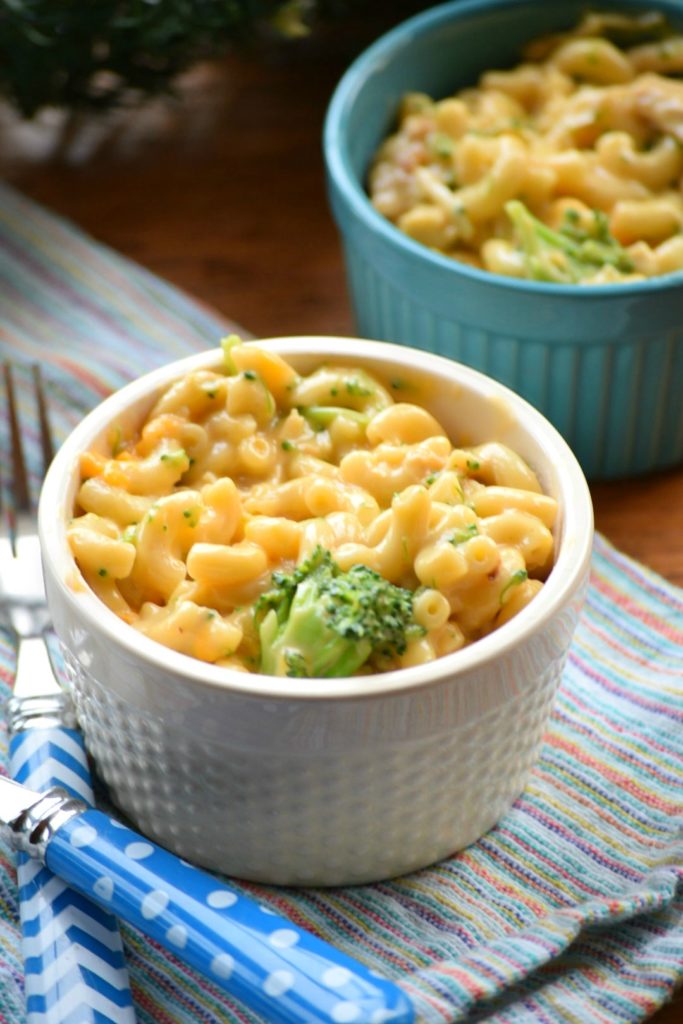 Are you looking for meal inspiration? Then look no further than Mueller's® Pasta Matchmaker Quiz! Take the quiz today and see what your inner chef inspires you to create! 
You can also participate in the Pasta Matchmaker Challenges, where you can put your own spin on a Mueller's® classic recipe and submit for a chance to win prizes.
Contest dates are as follows:
Challenge #1: January 1 – January 21
Challenge #2: January 22 – February 4
Challenge #3: February 5 – February 18
Challenge #4: February 19 – March 4
Challenge #5: March 5 – March 18
Challenge #6: March 19 – April 1
I found my Mueller's® pasta at my local Shoprite in the pasta aisle! The blue and white box stood out among the rest! The price was right as well which helps when you eat a lot of pasta! I bought several boxes of pasta as I will definitely be using the Pasta Matchmaker again because it was a smashing success with my family! 
For more great recipes & inspiration follow Mueller's® on Facebook!