Every year on vacation we pass through one of my favorite places in Amish country. It's a country, homestyle restaurant that lines the table with the best comfort foods!
I always leave a little room for one of the greatest desserts I have ever had! A baked apple covered in a buttery, cinnamon, sugary pie crust. My baked apple recipe is a twist on this amazing Amish country dessert.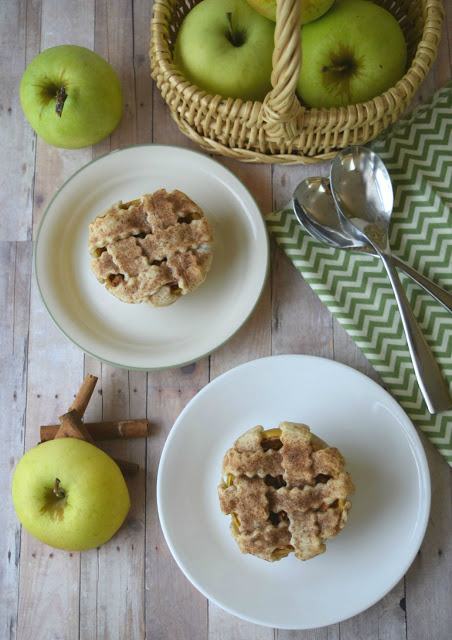 Fresh picked orchard apples, cinnamon sugar, and buttery pie crust make this baked apple recipe a favorite fall dessert! 
This recipe is simple and sweet and even better tasting with drizzled caramel and a scoop of ice cream for the a la mode version! 
Baked Apple Recipe
Ingredients
4 apples
½ refrigerated pie crust
1 teaspoon cornstarch
3 Tablespoons granulated sugar-divided
1 Tablespoon cinnamon -divided
1 Tablespoon butter-melted
Caramel topping or ice cream-optional
Instructions
Preheat oven at 350F
Cut the top off each apple.
Using a knife cut around the core and then scoop out with a spoon.
With a spoon scoop out the rest of the apple meat. Set aside in a bowl.
Dice into small pieces the apple tops and add to bowl.
To the bowl add 2 Tablespoons granulated sugar, 2 teaspoons cinnamon, and 1 teaspoon cornstarch.
Stir together and add to the hollowed out apples.
Roll out the ½ pie crust and sprinkle with 1 Tablespoon granulated sugar and 1 teaspoon of cinnamon.
Using a knife or a pastry cutter cut the pie crust into strips.
Lay strips in a lattice over the stuffed apples.
Using a pastry brush, brush melted butter evenly over each apple. Press piecrust gently to the sides of the apple.
Bake at 350F for 35-45 minutes.
Drizzle with hot caramel topping and top with a scoop of ice cream-optional.