Gooey, buttery, sugary bread with simmered apples oozing out and a secret ingredient make this apple monkey bread one sweet, sticky fall treat! 
It becomes fall officially in 2 days ! The weather here is seeming like fall more and more with each passing day! I have a sweater and my cozy socks on already! 
Apples, pumpkins, changing leaves, and cozy clothes time is here and summer is already seeming like a distant memory! 
We went apple picking this last week and the variety was amazing! Crunchy, tasty Cortlands, Red Delicious, Macintosh, and Jonagold apples filled our bag! 
We headed right to the kitchen to create some of our favorite apple recipes! Apple crisp, apple butter, and this apple monkey bread rate high on our list! 
  Stove simmered apples, sugary, buttery slices of bread and the secret ingredient that brings extra sweetness makes this apple monkey bread a fall family favorite! 
This monkey bread has our lips smacking,  licking our plates and going back for seconds! 
What to know the secret ingredient that brings extra sweetness and gooey goodness to this apple monkey bread? 
It's the butterscotch pudding that is sprinkled on top! It gives the monkey bread this caramelly, sugary sweetness and it doesn't taste like butterscotch at all and it's sprinkled on dry!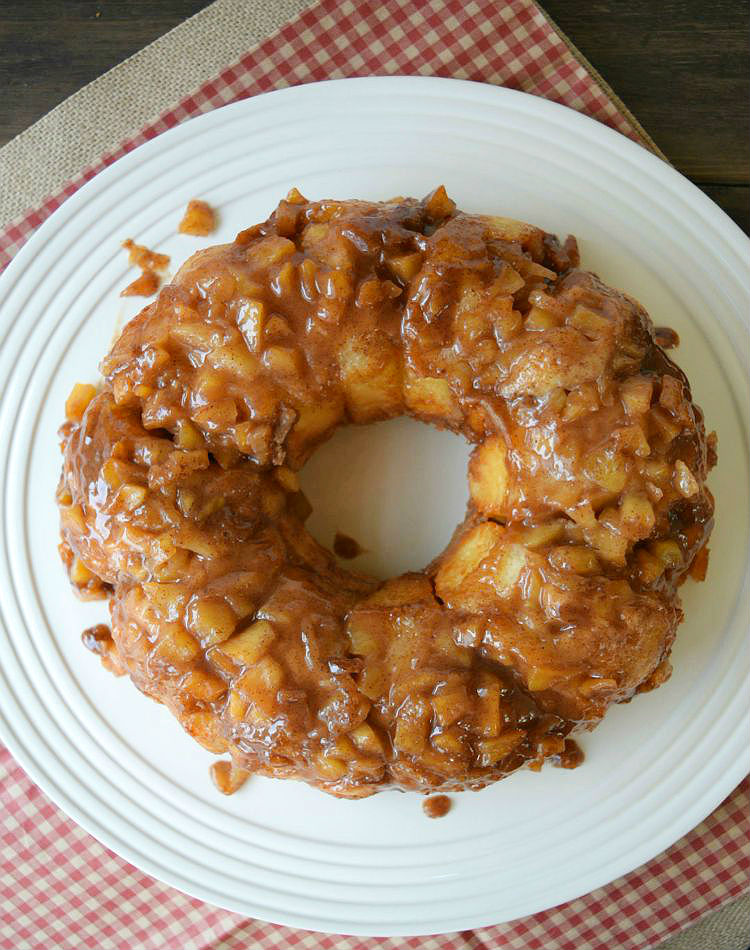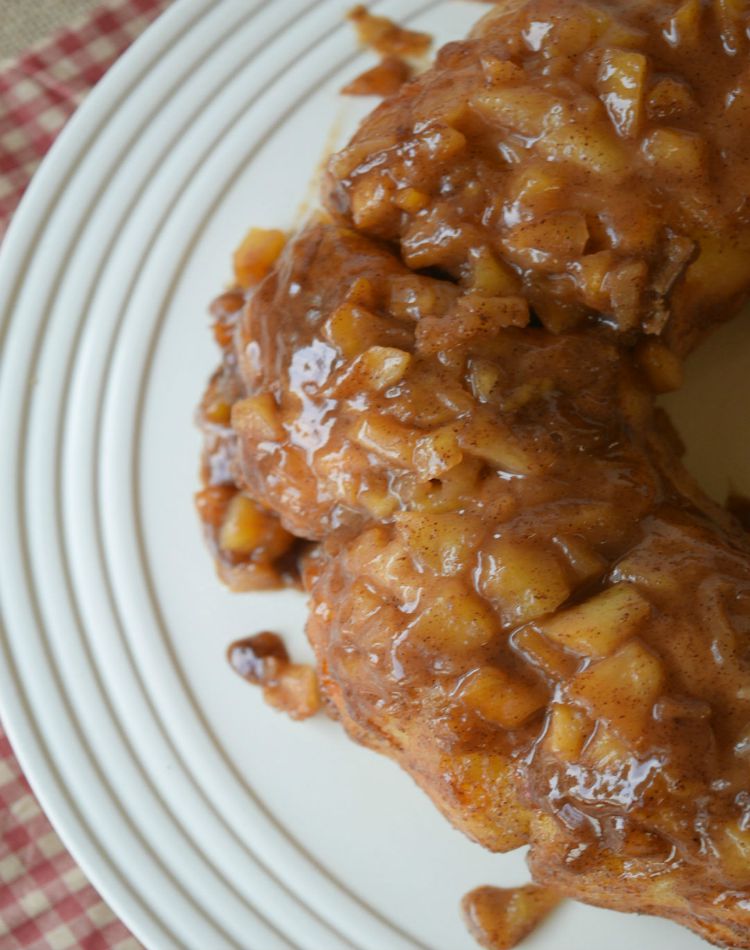 Apple Monkey Bread
Ingredients
1 frozen bread dough-thawed
1 large apple-diced small
1 teaspoon cornstarch
2 Tablespoons granulated sugar
¼ cup water
1½ teaspoons cinnamon-divided
¼ teaspoon lemon juice
½-3.4 ounce box instant butterscotch pudding
1 stick of butter
½ cup brown sugar
Instructions
Preheat Oven to 350F
Grease bundt pan
In a saucepan place diced apple, cornstarch, sugar, water, ½ teaspoon cinnamon, and lemon juice. Stir.
Simmer until it has become tender and has thickened.
Spread apple mixture evenly in the bundt pan. Allow to slightly cool.
Slice the thawed bread dough into 10 slices and place on top of apple mixture.
Pour the ½ box butterscotch pudding over top the bread slices.
Cover and allow to rise for at least 2 hours or until bread has doubled in size.
In a small saucepan combine the butter, sugar and 1 teaspoon cinnamon. Simmer on stove until just boiling.
Remove from stove and pour evenly over bread slices.
Bake at 350F for 30-35 minutes.
Allow to cool at least 15 minutes before inverting onto a serving platter.