Classic Italian antipasto together with penne pasta in a flavorful summer salad!
Growing up in an Italian family meant that antipasto was served at family gatherings.  The kids sneaking slices of salame, adults stacking bread high with cheese, olives and more and the smell of the antipasto platter bring back sweet childhood memories! I still sneak slices of salame as it's being sliced! 
For summer we love pasta salads because they come together quickly and they make a lot! I had a bright idea the other day to combine my antipasto platter and pasta together to create one dish! A time-saving dish! 
My family's favorite antipasto combined with penne pasta mixed with Italian dressing makes the perfect side dish! In addition to sharing this family recipe, I am also sharing 3 tips that made this pasta salad even better! 
Welcome to my Italian kitchen, let's get cooking!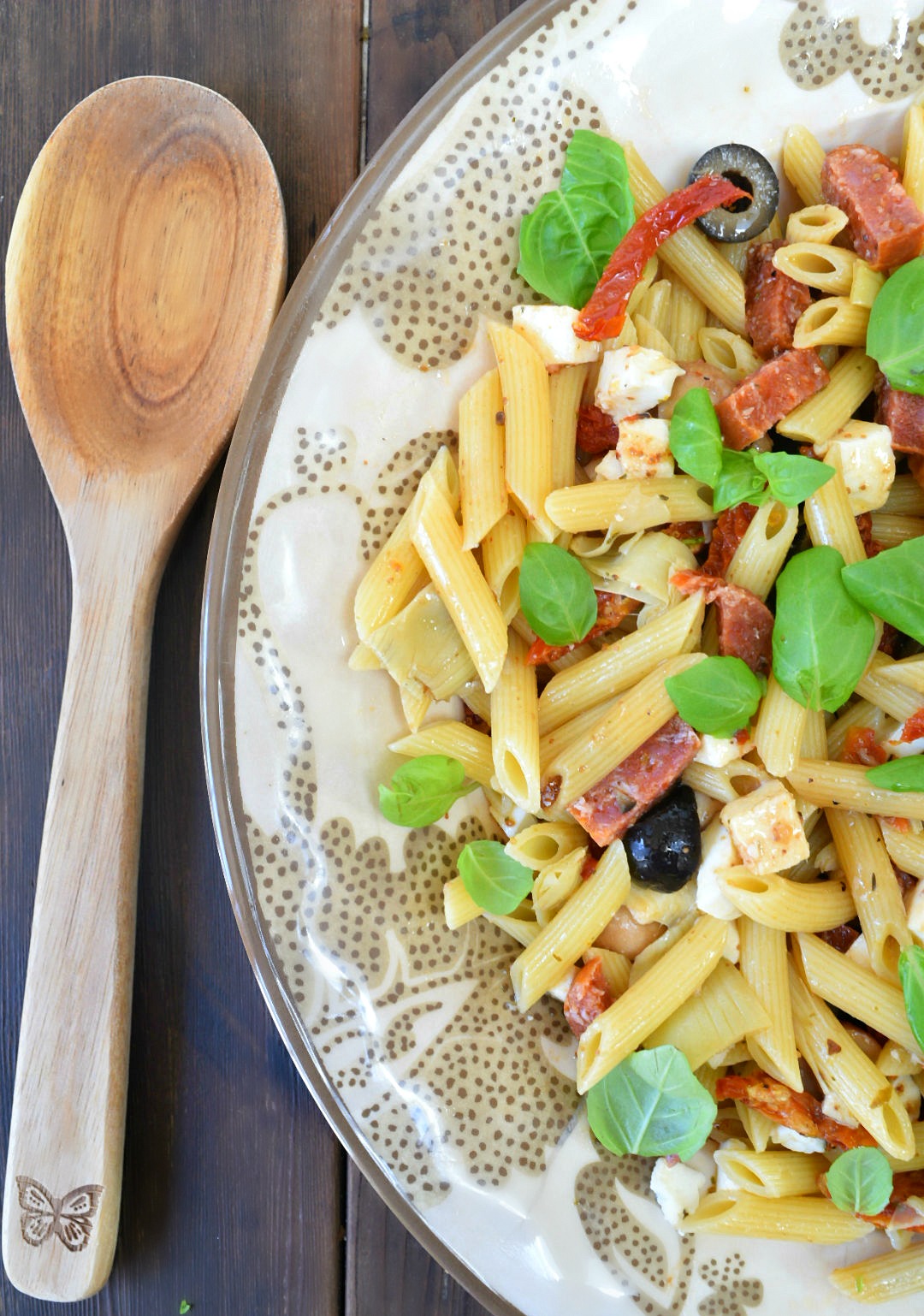 This antipasto pasta salad didn't last long in my house! Even my sweet boy who doesn't like pasta ate it! I tried not to break out in a happy dance when he went back for more! The pasta salad has a great savory flavor that tastes amazing warm or cold! 
Antipasto Pasta Salad
Ingredients
1 cup marinated mushrooms
1 cup marinated artichokes
1 cup black olives
½ cup sun-dried tomatoes
1 stick pepperoni
½ lb fresh mozzarella ball
bunch of fresh basil
1 lb penne
½ cup your favorite Italian Dressing
salt and pepper to taste.
Instructions
Cook pasta according to the package for al dente.
Chop the mushrooms, artichokes, olives, tomatoes, pepperoni and cheese into bite-sized pieces.
Reserve some marinating juices from the mushrooms and artichokes.
Place antipasto into a large serving bowl. Add basil.
Drain the pasta, cool for a couple of minutes and add to antipasto. Mix well.
Use the reserved juices and stir until desired taste.
Stir in the dressing. Salt and pepper to taste. Serve warm or cold.
Store leftovers in airtight container.
Tip One for making this pasta salad great is to cook the pasta al dente. When the pasta is cooked on the crunchy side it will soften and soak up the great Italian flavors while it gets stirred up. It keeps the pasta from getting mushy.
Tip Two is to buy local produce when you have the opportunity. We support our local farmers by looking for labels that say 'local' in the grocery store. It's a great feeling to know that we are helping our neighbors!
Tip Three and the secret success to this dish is not to drain the sun-dried tomatoes and artichokes. Use the flavorful marinated juices to help make your dressing packed with savory flavor.