I love family traditions! As our kids have gotten older we have celebrated some of our childhood traditions, and we have had the joy of also creating some of our own.
It gets easier as the kids get older to go different places and do more fun things! Among our favorites is heading into NYC to see the tree, cookie making, ornament crafting, wrapping gifts, and the night before Thanksgiving when our kids mail their letters to Santa.
Our kids write out their wish lists to Santa and we head to the mall and mail them. For every letter mailed, Macy's donates $1 to the Make A Wish Foundation. The kids then sit on top of Santa's lap and without cracking a smile they stare up into his eyes and ask for a red rider bibi gun! Asking for this, of course, gets a chuckle out of Santa. He is the same Santa every year and he is the most authentic looking Santa I have ever seen. I am very tempted to tell my little love to tug on his beard to seal the deal!
Even with all the fun festivities, good times, and wish listing making there is something more. Something bigger than you and I. Something that will last beyond the quick unwrapping of a gift that will soon be tossed aside.
It's the giving of the greatest gift of all. The gift of your time, talents, and sometimes money to those who would otherwise go without. Showing the love of Jesus to those who have little hope or joy especially during the holiday season.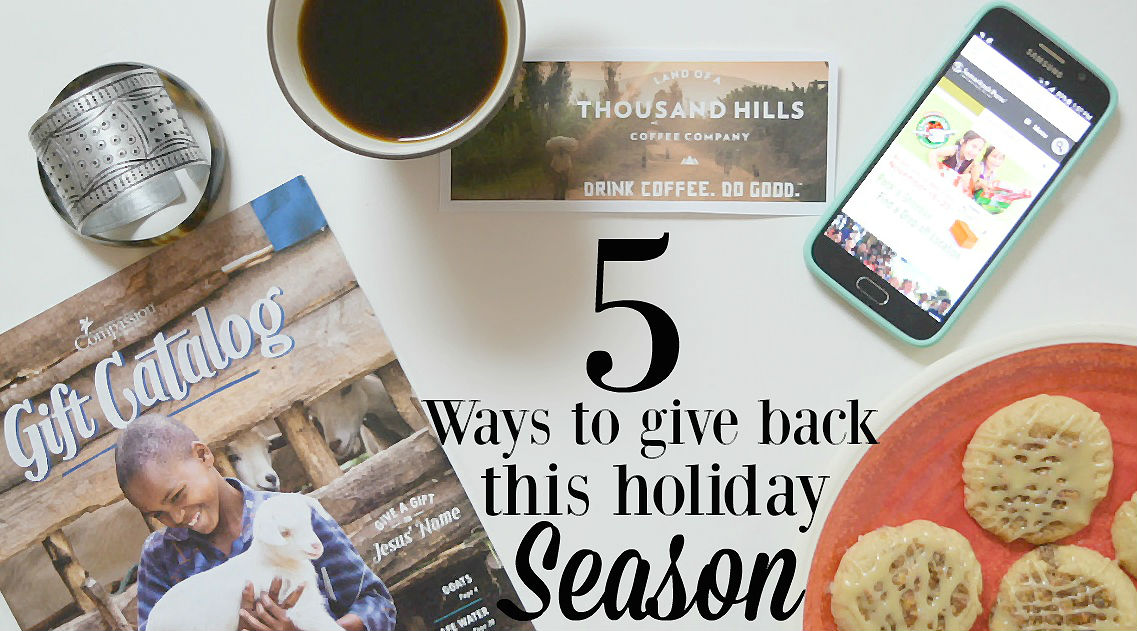 We love the traditions that we have started with our family and giving our kids the gift of awesome family memories and good times!
Going hand in hand with those traditions, we are also creating a desire in their hearts to want to serve others during the holidays! Through the years, we have added to the things we have been able to do! Through our time, talents, and money together as a family we are giving back because we have been given so much!
Here are 5 ways that we are giving back this holiday season:
Operation Christmas Child: One of our favorite ways to give back is participating in Operation Christmas Child. Put together a shoebox of small items with anything from toothbrushes to toys. These shoeboxes are shipped around the world and bring joy to the children that receive them!
Land Of A Thousand Hills: Our kids don't drink coffee, but we do! A lot of it! We were introduced to Land Of A Thousand Hills years ago at a conference. They have a truly remarkable story. You can meet their farmers, read their story, and see all that they are accomplishing with this beyond amazing fair trade coffee. Their Christmas blend is out of this world! Their mission is Drink Coffee. Do Good. Count me in for drinking coffee that I know is making a life-changing difference in the lives of people!

Compassion Gift Catalog: This amazing catalog comes each year and you can also view it online! The Compassion Gift Catalog allows you to buy items for people, children, and their villages. Our favorites through the years have been school supplies, a well, and chickens!
Rafiki Foundation: This foundation allows you to purchase items like jewelry to support the women that craft and create a variety of things! I have a weak spot for bracelets and there are so many colorful, decorative bracelets and more to choose from! These items make great gifts!
Bake Cookies: One of our favorite ways to give back is the sweet way of baking for others! A pretty package of homemade baked goods can warm someone's heart and let them know you care!
It's in the small things that sometimes make the biggest difference! We are always on the look out for new ways to give back during the holidays! Share below what ways your family is able to give back during the holidays!!