We recently went to see the Kung Fu Panda 3 movie as a family for a school event. Almost 200 people from our kids school packed the theater and in the room there were lots of sounds of popcorn munching, candy chewing, and soda sipping. You can also hear tons of laughter as Kung Fu Panda 3 came to life on the big screen.
We were not sure going in how the movie would be because of it being the third one. We were pleasantly surprised at the entertaining, witty yet heart warming story that the movie told. And the best part is the movie was full of great, simple life lessons that were weaved into the fabric of the movie. We give this movie a thumbs up!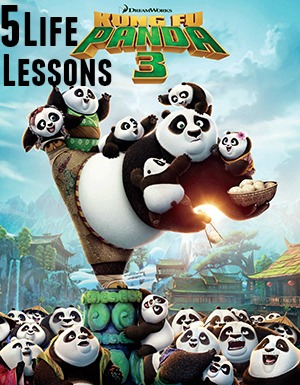 5 Life Lessons from DreamWorks Kung Fu Panda 3:
Be the best you that you can be: In one of the opening scenes Po and his Kung Fu friends encounter green evil monsters and they worked together as a team to defeat them. When you are the best you that you can be there is nothing that can hold you back, and no task that you can't overcome!
Always strive to be the best you that you were created to be! There is only 1 you!
You get more from life from giving than taking: We have never seen so many dumplings in one place. There is a lot of making dumplings and giving them away. More than just dumplings the characters in the movie give each other their time, talents, and support. They give all they have to save each other from the evil villain Kai.
Always remember that it is better to give than to receive!
In life's journey-know where you come from, where you are, & where you are going: By movie three Po knows exactly who he is and he has discovered what he was meant to do! In a small moment of reunion with his panda Dad he questions everything he has come to know. By the end of the movie he discovers that he can be the best Kung Fu Panda that he is meant to be, and it's only then that he is awarded the great honor of receiving mystic green staff given to him by Master Oogway.
Always know who you are, that you are loved and you are special!
Staying comfortable may mean that you miss out on the person you were meant to be: If Po never went with his Panda Dad he may have missed out on the joy of knowing his panda family, and ultimately defeating the evil Kai. Po was willing to leave the comforts of his home to travel to an unknown village to fight evil!
Always reach for the stars!
Everyone needs a great team that surrounds them: What a amazing cast of characters that come together to make a great team! Po had been surrounded by a family and a team that taught him Kung Fu, and then in this movie his panda Dad comes back to bring him home to the Panda village. An adventurous tale is woven together as his 2 families come together to overcome evil and come out on top!
Always rely on your family and friends to walk with you through life's journey!
We love panda bears! One of our favorite things to do is check out 3 sweet real life pandas that live at the San Diego Zoo. Check them out here: San Diego Zoo Panda Cam
A Kung Fu Panda Pinterest Board full of great ideas!